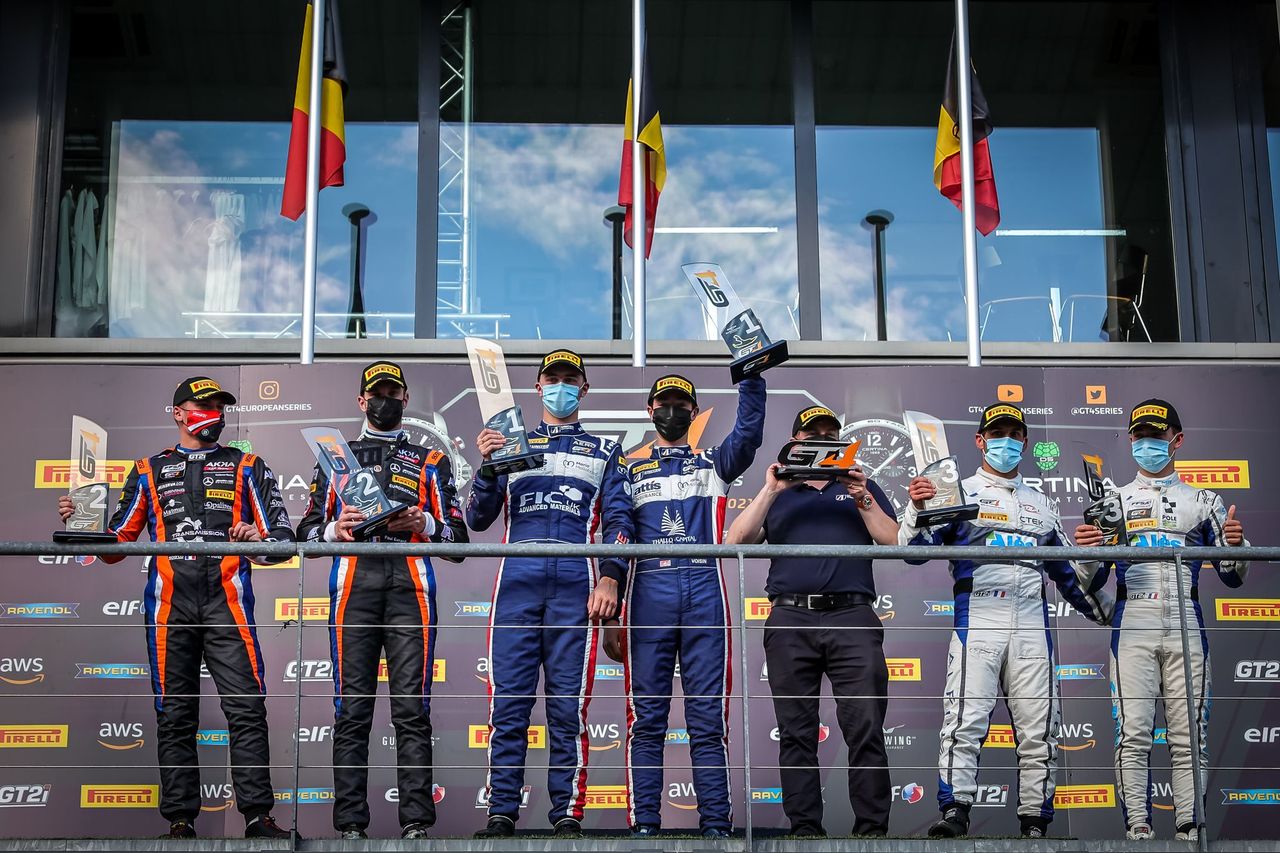 United Autosport drivers, Charlie Fagg & Bailey Voisin have won the opening race of GT4 European Series weekend at Spa Francorchamps and have reclaimed the title lead in both the Silver Teams and Silver Drivers' standings.
A perfect qualifying session on Friday for Bailey Voisin saw him claim his maiden pole position in GT4 racing and place the #23 McLaren 570S on the front row of the grid for the opening race of the weekend on Friday evening. Bailey had a great start from pole and drove a fantastic opening stint, coming under strong pressure from the car behind, but holding onto the lead before pitting to hand the car over to Charlie Fagg. Charlie also drove brilliantly, holding onto the lead and bringing the #23 McLaren home to take their third win of the season.
Qualifying for race two was down to McLaren pro Charlie Fagg. Charlie placed the #23 McLaren P2 on the grid.
The weather conditions ahead of race two were unpredictable, with rainfall leading up to the start of the second race. The team made the call to start the race on slick tyres, a risk that proved to be worth taking. Charlie had a great start off the line, taking the lead of the race heading into Eau Rouge. He set about extending his lead and in a mirror image from yesterday's race, held off intense pressure from the second placed car to bring the #23 into the pits to hand over to Bailey as the pit window opened. Both the #23 and #32 left the pits at the same time, with Bailey ahead of Gus, running second and third. The two United Autosports McLarens had a good battle on track with not only each other, but also the fourth placed car, until Gus got caught out on the drying track and spun in the #32. Bailey continued in second place until a final lap battle with the third placed car saw them make slight contact, resulting in Bailey suffering from a left rear puncture. Bailey managed to drag the car over the line, eventually finishing fourth after a great weekend for the #23.
The team have now regained the lead of the GT4 Silver Championship in both the teams and drivers' standings, heading into the next round at the Nürburgring on 3-5 September. The win for the #23 also marks the sixth consecutive race win for United Autosports at Spa Francorchamps, dating back to September 2018.
Bailey Voisin
"Overall, it was a reasonably strong weekend for us, with valuable points collected for the championship. It was great to get my first pole in qualifying and fastest lap in the race yesterday as well as winning overall. We were a bit unlucky in race two where we were battling for a podium but some damage to the rear meant we finished P4. Big thank you to the team for all their support this weekend."
Charlie Fagg
"It was a brilliant result for us in race one. The car was fantastic and the weekend has been great from start to finish. The second race was mixed with tricky conditions, but I really enjoyed my starting stint especially whilst the track was wet. We had a great car and I can't thank United and McLaren enough."