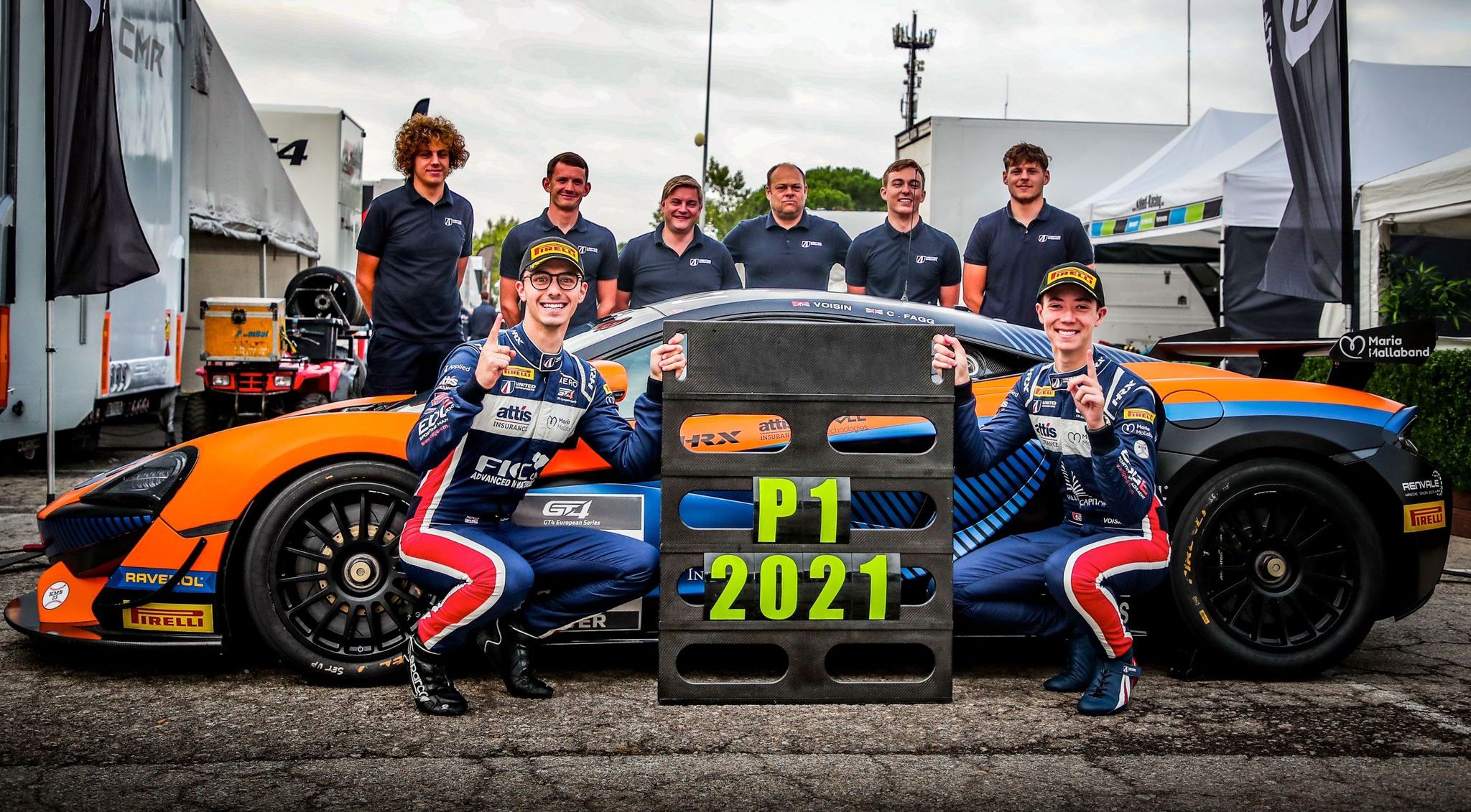 Voisin & Fagg become European GT4 CHAMPIONS!
United Autosports have been crowned Silver Drivers' Champions at the final round of 2021 GT4 European Series, to go with their Teams' Championship win secured at the previous round at the Nürburgring. EDGE drivers Bailey Voisin and Charlie Fagg in the #23 McLaren 570S crossed the line sixth in class yesterday, sealing the Drivers' Championship with one race to go.
Starting the season off with a double win at Monza at the first round, Bailey and Charlie were set up for a brilliant first season with United Autosports, going on to achieve a further two wins, three poles and six podiums as well as picking up the Silver Teams' Championship a round early in Nürburgring alongside teammates Gus Bowers and Dean Macdonald in the #32 McLaren 570S.
Due to the McLarens domination this season, the championship gave the team a challenging BOP for the final round of the European GT4 Championhip. This resulted in the teams worst qualifying to date of P18 and P17 for Voisin & Fagg. With the #23's 44 point lead, the Toyota HAD to win and the #23 had to finish outside of the top 7 in race 1 to take the championship to the last race.
Bailey started Race 1 and had a fantastic start, keeping his nose clean in the middle of the pack. The race was damage limitation with the goal to just bring the car home. Some fantastic defensive driving whilst still attacking would see Voisin bring the car into the pits at the halfway stage in P14. A steady pitstop saw Fagg emerge in p20. A tricky stint for Fagg saw him bring the #23 home in P10 whilst the Toyota could only manage P3 resulting in Bailey and Charlie being crowned the 2021 European GT4 drivers CHAMPIONS!
Race 2 had the luxury of being for pure enjoyment having wrapped up the title in race 1. Charlie started the race and again held position on the opening laps. Again like Voisin in race 1, Fagg had the job of trying to attack whilst trying to hold off the faster cars behind. A sterling job saw Fagg pit in P14. A great driver change saw Bailey take over the hot seat. A fairly drama free, lonely stint saw Voisin bring home the #23 for the final time in P10.
Bailey Voisin
"It's been an absolutely incredible debut season in GT4, winning the European GT4 Silver Drivers' Championship alongside Charlie. The team have been incredible all year and McLaren Customer Racing have been fantastic. It's been a really enjoyable year with lots of positives to take away. I appreciate everyone's help and hard work and wish United all the best in their future endeavours."
Charlie Fagg
"It's been a great year and to come into the last round and win the drivers' championship has been absolutely brilliant. A big thanks to everyone at United and my teammate Bailey who has been phenomenal in his first ever year of GT racing. Whilst it might not have been the perfect weekend in Barcelona, nonetheless it was brilliant to wrap up the championship so thank you everyone at United and McLaren."