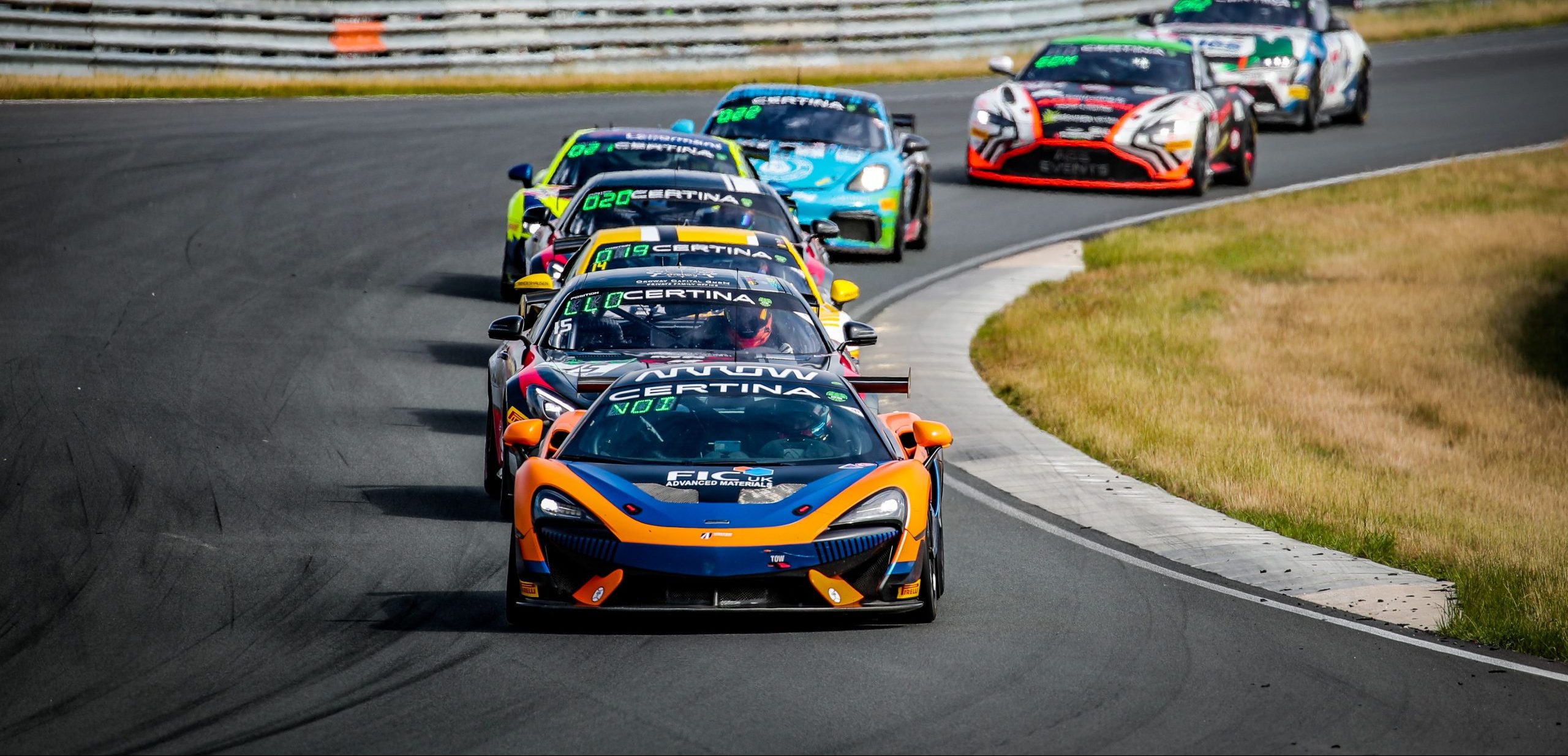 United Autosports had a challenging weekend during round three of the GT4 European Series at Zandvoort this weekend as the team returned to the Dutch track for the first time since 2013.
Charlie Fagg secured a Silver Class pole position on Saturday during the second qualifying session, starting the #23 McLaren 570S third on the grid for race two earlier today (20 June). During the first qualifying session, Bailey Voisin struggled to get a clear lap and started further back in the field for race one than was intended in P20. Shortly after the qualifying session it was discovered the car had a small mechanical issue which may have resulted in the lack of pace.
As the opening race of the weekend got underway, Bailey Voisin made his usual good start in the #23 picking off cars ahead and making up a number of places and settling into a rhythm. Unfortunately, just before the pit window opened, Gus Bowers in the #32 sister McLaren suffered a suspected ABS issue and collided heavily with the barrier, bringing out the red flag so the circuit officials could repair the damaged barrier. Luckily, Gus walked away from the heavy impact unhurt. As race one restarted, after a 30-minute red flag period, Charlie Fagg continued to battle through the field as teammate Bailey had done during his stint. At the end of the race, Charlie crossed the line P11, any further progress through the field thwarted by the race ending under a safety car.
At the start of race two, Charlie defend his Silver Class pole position in the #23 before handing over to Bailey for the second half of the race. Bailey took over, running in fourth, just outside a Silver Class podium position. An unfortunate safety car in the last five minutes of the race meant Bailey was unable to push the #23 to its potential and fight for a podium.
The drivers and team are now looking ahead to round four of the GT4 European Series at Spa Francorchamps in five weeks, where they intend to extract the maximum potential out of both McLaren 570S GT4 cars and collect some more points for the championship.
Bailey Voisin
"Tough weekend, it is probably the weakest track for the McLaren. I think we scored some decent points, we might not have been as high up as we would have liked but I'm looking forward to Spa. Hopefully it will be a stronger track for us, it looks amazing and I can't wait to be racing there."
Charlie Fagg
"It was a good race two, finishing fourth in silver class. Highlights for me were pole in class and leading my whole race stint. The car was well put together, it was a good effort and from a track that we knew we would struggle at I think we did our best to minimise the gap to our competitors in the championship standings. We look to Spa now and getting on a track that I absolutely love."