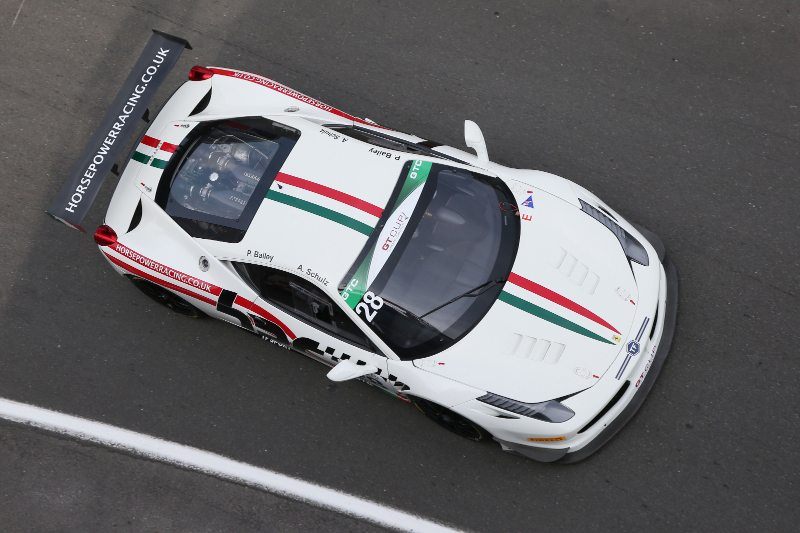 TF Sport has expanded its 2015 GT Cup entry, as the Redhill-based team will field a Ferrari 458 Challenge for multi-faceted racer and driver coach Phil Glew and his long-term pupil, gentleman racer Andy Houghton.
Glew is an experienced single-seater and GT driver who has achieved 70 podiums from 143 races contested since his car racing debut in the 2002 British Formula Ford Championship.
After laying solid foundations in single-seaters, the Bedfordshire-based racer eventually switched to 'tin-tops', achieving a race win during his maiden British GT campaign in 2006 and sealing the Renault UK Clio Cup title in 2009 with 18 podium finishes – including 11 race victories – and 11 pole positions to his name.
It was this unquestionable flair and natural ability that ultimately earned him a spot on the British Touring Car Championship grid the following season, although the young racer then went on to become a fully qualified Grade 'A' ARDS Instructor at the age of 19 and establish his own business, Edge Sporting Events Ltd.
"I've been coaching Andy (Houghton) for quite a few years now under the Edge Sporting Management banner alongside other talented individuals," said Glew. "We offer coaching and management to young kids and to those like Andy who want to go into GT endurance racing, which demonstrates how flexible and varied our offering is. I believe Andy has reached the stage where he's going enough to race; he feels he's ready and so do I, therefore he's going to give the GT Cup a shot in TF Sport's Ferrari 458 Challenge, which we know he gets on well with.
"At present we're only contesting four of the eight rounds. Other responsibilities mean we're unable to commit to a full season, but this year is all about him continuing to learn and me helping him achieve results in some of the longer races. We need to be realistic and we're looking for race wins – as long as I do my job as a coach and a racing driver, there's no reason why we can't – although I'm mentoring and nurturing his talent with a longer-term view of taking him to the top in the British and European GT racing scenes."
Glew will be there to coach Houghton every step of the way and the Cambridge resident is determined to make use of all the lessons imparted by his long-term mentor and stamp his authority in the burgeoning GT Cup.
"I haven't done much racing for some time but I'm expecting a good season and I like to think we can get a bit of silverware at the end of the year," said Houghton. "Podiums are what we'd ideally like to achieve during this campaign and I've been really pleased with the progress I've made with tutelage from Phil (Glew) in various cars, including the Ferrari 458 Challenge. It's a fantastic car that gives you a lot of feedback and confidence and it's a lot of fun to drive too, as you might expect. Ultimately, Phil has nurtured me from a complete novice and I've been recording reasonable lap times recently that would have put me right in the mix in some of the UK's most prestigious GT championships. With an extensive pre-season programme, consisting of several simulator sessions and five tests, I think I'll be as prepared as I can be come the season-opener."
TF Sport Director, Tom Ferrier, said: "This is a toe in the water exercise for Andy (Houghton) as he starts his racing career. He has been coached by Phil (Glew), who we regard as one of the top driver coaches in the country, for the past few years and, from what I have seen of Andy's driving, I think he will be really good in his maiden GT Cup season.  We will use the Ferrari 458 Challenge car, we plan to do lots of testing and contest four of the eight rounds to get him up-to-speed."
The 2015 GT Cup season is scheduled to get underway at the Donington Park circuit on the Derbyshire/Leicestershire border on 25-26 April.
For more on TF Sport, visit the official www.tfsport.co.uk website, 'like' the team'sFacebook page of follow @OfficialTFSport on Twitter.