The #23 United Autosports GT4 car of Bailey Voisin and Charlie Fagg experienced a strong weekend at Paul Ricard, in the second round of GT4 European Series.
Qualifying would see 18 year old Voisin partake in the first of the two sessions. Voisin soon got the McLaren 570s GT4 up too speed and was at the sharp end of the order, but unfortunately some ill timed traffic from some of the slower AM class cars hampered Voisin's progression up the order and he would qualify P15 for Race 1 the next day.
Qualifying 2 would see McLaren GT Driver Charlie fagg take the wheel. In usual form Fagg would set a time good enough for the front row in P2, just 0.036 of a second off pole position!
In race one, Bailey Voisin would start the race and had an amazing start in the #23 McLaren 570S and moved easily through the pack to make up 11 places within the first six laps to sit in P4! A truly outstanding drive from the youngster throughout h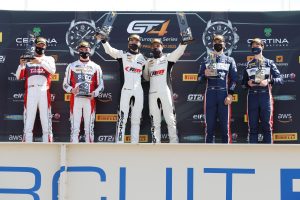 is stint. At the 30 minute mark Charlie Fagg took over and moved brilliantly up to P3, defending against the Chevrolet until the chequered flag. A third podium for the #23 crew after two rounds, with the team retaining their championship lead.
The #23 crew started race two on the front row of the grid after a great qualifying session by Charlie Fagg on Saturday, missing out on pole by only 0.036s. An interesting start procedure from the pole sitter would see the entire field left standing, including Fagg. Despite the controversial start, the race proved difficult in maximising the pace of both United Autosports McLaren's. Fagg managed to hang on to 4th for the entirety of his stint and at the halfway mark handed over to Voisin. A slightly longer than expected pitstop meant the #23 car would drop 2 positions to P6. A solid stint by Voisin would see him bring home the #23 car in P6 (P4 in silver class).
Overall, a decent weekend for the team with points awarded in each race, resulting in the team maintaining first in the silver class championship. The team now turn their focus to round three, which takes place in Zandvoort on 18-20 June.
Bailey Voisin:
"Looking at the weekend as a whole I think there are several positives to take away from it. We managed to get a podium in race one and add some more championship points for the team. A slightly trickier second race, where we just didn't seem to have the pace to challenge the cars at the front."
Charlie Fagg:
"Overall, it was a solid weekend. It's not quite the track for the McLaren but we still had a good weekend, finishing third in the first race and getting more points for the championship. The car felt great and hopefully we can bounce back at round three in Zandvoort."