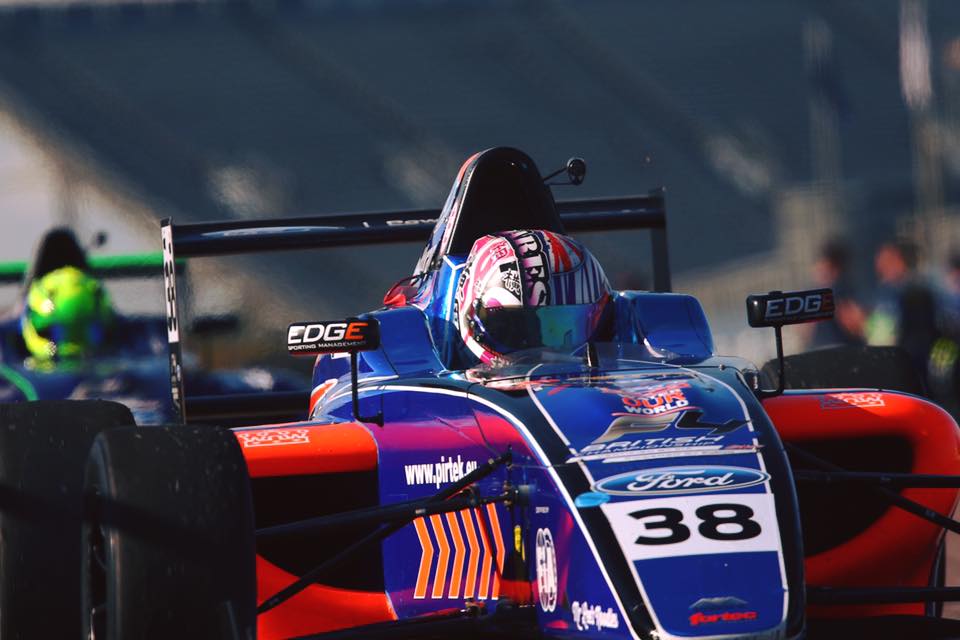 Jamie Caroline was looking to get back on the podium for rounds 22, 23 & 24 of the British F4 Championship at Rockingham Motor Speedway.
Qualifying would take place under changeable conditions, and it could not have gone any worse for the 17 year old. A wrong tyre choice on an ever changing track would see Caroline line up in P18 for race 1 and 3.
Race 1 saw the heavens open and full wet conditions were declared, a blessing for the rain master Caroline. An incredible start saw Caroline drive past 10 cars on lap 1, and up to P8! Once again, Caroline putting himself up there as one of THE best wet weather drivers in the championship.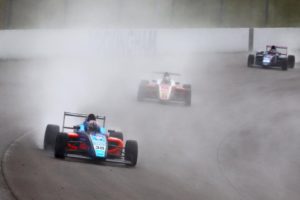 This unbelievable lap then continued throughout the race and by lap 4 he was in P5!! The race then settled down and Caroline was hunting down Championship contender Sennan Fielding in P4. He quickly caught up to the gearbox of Fielding, and on lap 10 made the manoeuvre of the race, by going around the outside of Tarzan bend and into P4!! This amazing race saw Caroline cross the line in P4, had there been more laps left, who knows what he may of achieved.
Race 2 saw Caroline line up in P5 after the reverse grid was formed. Dry conditions beckoned and Caroline was looking to move forward throughout the race. The lights dropped and Caroline made a reasonable start. Contact between two cars ahead meant that Caroline moved into P3. Two laps later Championship contender Max Fewtrell slipped passed Caroline at turn 2 and Caroline was down to P4. Team mate Alex Quinn tried all he could to get past Caroline for P4 but some great defensive driving saw the Pirtek backed car come across the line in another solid P4.
Race 3 would see Caroline line up in P18 once again. Unfortunately this time there was no rain to aid in Caroline's progress through the field. A good start would see Caroline make the risky choice to go around the outside of the turn 2 hairpin. Unfortunately this did not totally go to plan, and Caroline lost the ground he had gained from the initial getaway. As the pack settled down, Caroline made his way up to P14, and his race pace was matching that of the leaders. The time ticked down and Caroline would cross the line in P14.
Caroline commented, "Qualifying was a complete disaster for me, but I got my head down, focused on the races and showed what pace we do have in the wet! Race 2 was ok too, and race 3 was a bit of a non starter for me, my spinning team mate meant I had to take avoiding action which really put me down the order on the opening lap. Overall I think we have made progress this weekend and I can't wait for Silverstone in a couple of weeks time."