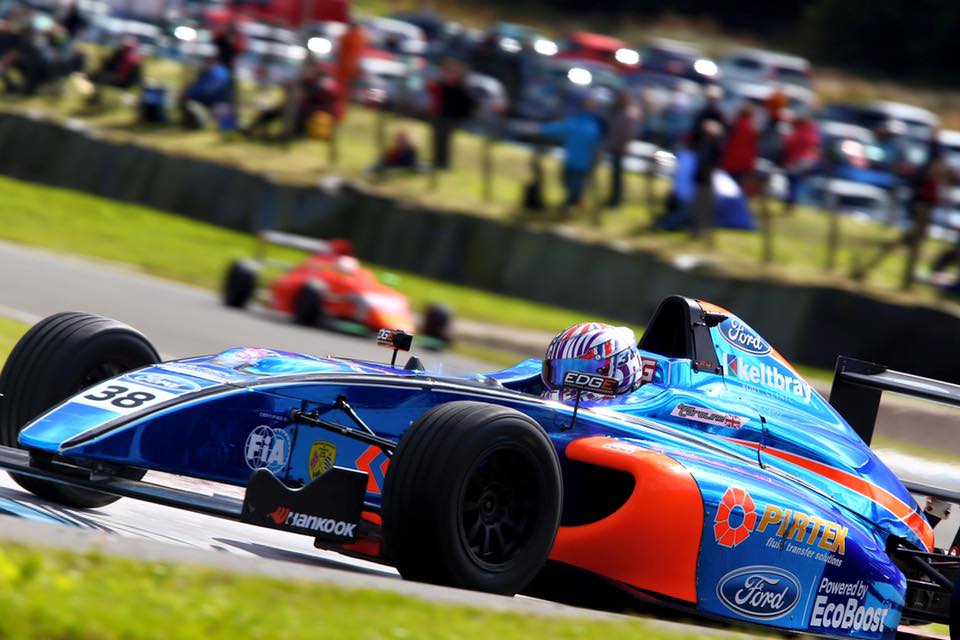 Jamie Caroline was looking for more podiums as he approached rounds 19, 20 & 21 of the British Formula 4 Championship at a rather bleak and cold knockhill race circuit. Qualifying saw the pack head out on wet weather tyres as the the circuit had had a sprinkling of rain just before the session started. As the session ticked down, a brave call from Jamie's team, Fortec, saw all 4 cars come in for a last minute tyre change onto slicks. This call then saw a last lap battle between the Fortec and Carlin cars for pole position, which saw Jamie grab the fastest times and secure two pole positions. Unfortunately Jamie would soon have those times taken away from him as he was deemed to have used to much run off. He was also given a 5 place penalty carried over from Snetterton for both races 1 and race 3.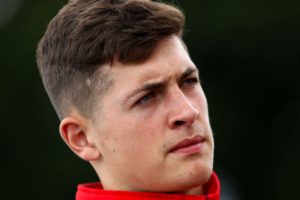 Race 1 saw Jamie line up in P8. A great start soon saw Jamie up into P6 by the end of lap 1. Here he battled away and continued to put pressure on the pack ahead. On lap 7 Jamie made a great move on his team mate Kjaergaard to promote the 17 year old up to P5. Here Jamie would stay as the gap to 4th place man Zane Goddard was simply too great, and he crossed the line in P5. Jamie would later be handed 4th place as race winner Petru Fluorescu was disqualified from the whole race weekend after an altercation in race 2.
Jamie would line up in P2 for race 2 due to the reverse grid system. Just before the lights went out Jamie slightly rolled forward out of his grid box and was deemed to jump the start. The lights did eventually drop and Jamie would slot into P3. A 10 second penalty was given to Jamie so he had to push on as hard as possible to try to minimise the damage that the 10 second penalty would do after the race. Some amazing defensive driving saw Jamie hold his P3 for the entirety of the race and he would bring his Fortec prepared F4 car across the line in P3, but with is 10 second penalty he would finish the race in P13.
Race 3 would see Jamie line up in P12. A reasonable start saw Jamie all over the gearbox of Arden's Jack Martin on lap 1. Jamie soon got past and was now looking towards the top 10. Jamie began to chase his Fortec team mate Kjaaergaard down but he had Carlin Championship contender Devlin Defrancessco on his tail once again. As the pair jostled for position, Jamie soon broke away and began to pursue the lead pack. A spin from Billy Monger then promoted Jamie into P8, and this is where Jamie would bring his Pirtek backed machine across the line.