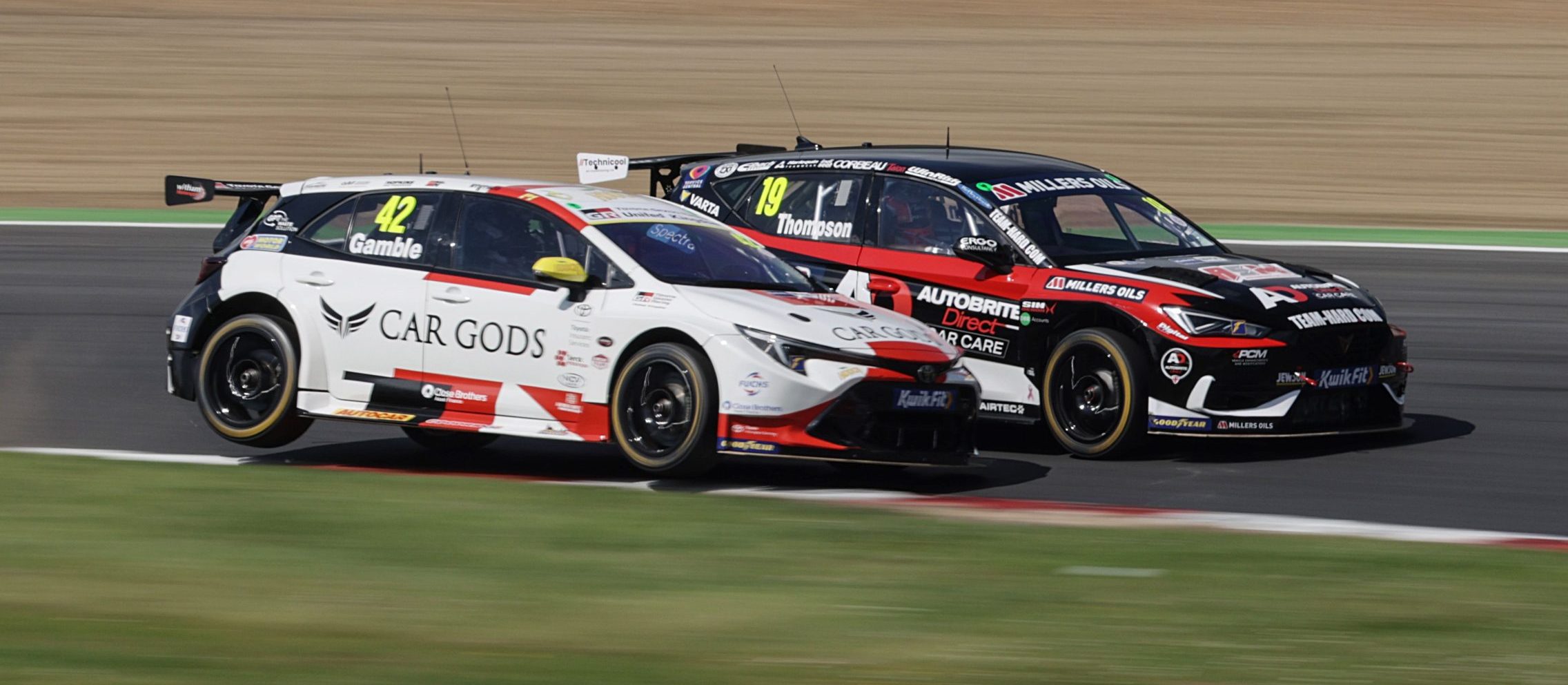 EDGE driver George Gamble came into the second round of the BTCC Championship keen to keep learning and understanding the Front wheel drive Toyota Corolla. During a wet and wild qualifying session new recruit to the team George Gamble out a time in for 16th.
Race 1 got underway and after initially challenging Jake Hill for fourth, Gamble's team-mate Butcher switched his attentions to staving off Tom Ingram before ultimately having to give best to the defending champion and Bobby Thompson. He went on to place seventh, with Collard and Gamble improving to ninth and 11th respectively.
Former BTCC Independents' title-holder and Jack Sears Trophy winner Butcher advanced a spot to sixth in race two, with Collard in close company until a tag from a rival into the last corner on the last lap dropped the Surrey-born star to ninth, with Gamble splitting the pair in eighth.
The trio were evenly-matched once again in the weekend's finale, in which they began second (Collard), third (Gamble) and sixth (Butcher) on the partially-reversed grid. In front of the live ITV4 television cameras and a capacity trackside crowd, a feisty Collard made a bid for the lead around the outside of Paddock Hill Bend when the starting lights went out, continuing to hold his nerve on the outside line at Druids and finally making the move stick on the inside of Graham Hill Bend to seize the initiative.
After breaking clear of the chasing pack, the third-generation racer later found his mirrors increasingly filled by Sutton, who closed right onto the Toyota's tail. The pair swapped positions over the course of a grandstand final lap, with the Napa Racing driver finding a way past only for Collard to boldly fight back and reclaim the top spot, but having crossed the finish line first, the 26-year-old was demoted to eighth by a ten-second penalty for exceeding track limits, cruelly denying him what had looked set to be a hugely popular maiden triumph.
Butcher and Gamble similarly ran inside the top five early on – even engaging in a wheel-to-wheel duel at one stage – but they too would both face disappointment, the Kirkcaldy native forced out by an engine issue and the Nottinghamshire ace obliged to pit for a tyre change after picking up a puncture.
George Gamble, Driver, Toyota Gazoo Racing UK, said:
"The more laps I'm doing in the Corolla, the more comfortable I am in the car and in front wheel-drive. Everything felt good in free practice, with all three of us very close on the timesheets, but qualifying was really hard. They were the worst conditions I'd ever driven in round Brands Hatch.
"Thankfully, the first couple of races went much better – I was really happy with both of them – and then we were just unlucky with the puncture in race three. That was a shame, because we were fast again, but overall, we made mega progress during what was only my first proper day in the car in the dry. We're definitely getting quicker and getting to grips with the new engine now, so things are looking good."