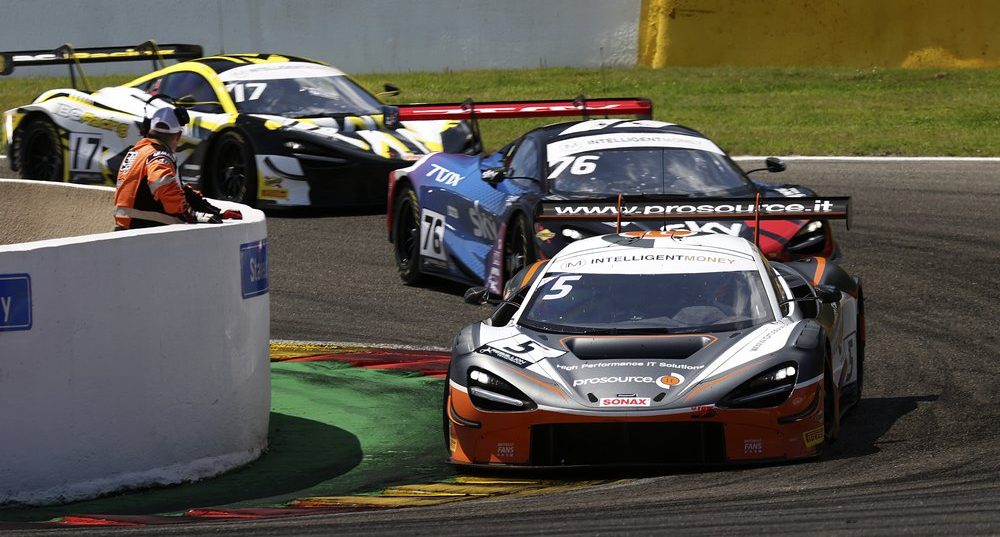 Greystone GT scored a fourth podium finish from five British GT Championship events with a storming performance from EDGE driver Lewis Proctor alongside his father Stewart at the iconic Circuit Spa-Francorchamps in Belgium on Sunday.
An heroic stint from Stewart – who was suffering from a heavy bout of overnight food poisoning – and another impressive drive by Lewis promoted the Aberdeen-based father-and-son pair to second place in the series' Silver-Am standings with two races to go.
Beginning their Belgian weekend with free practice, the pair worked on the balance of their McLaren 720S GT3 ahead of qualifying and then combined to put the car fourth on the Silver-Am grid; Lewis setting the fastest single laptime in the category.
Despite driving with the effects of his food poisoning, Stewart turned in his best stint of the season, reaching the mid-race pitstops in third place in Silver-Am, just a one second behind the car in second place.
Slick pitwork from the Greystone GT crew helped Lewis to emerge in second place and he then clung on to the position with an impressive stint of his own before a late drive-through penalty for exceeding track limits left him third at the chequered flag.
Lewis Proctor said: "I'm really chuffed with the way the weekend went. The pace in qualifying was strong and Dad did a great stint considering he was unwell with the food poisoning – in fact, there were several other members of the team that had it and there seemed to be more as the day went on. We were quick in clean air, but fighting in a pack against other McLarens meant it was nearly impossible to pass cars with the same strengths, but the aero wash made it hard to keep the car on track, so a couple of us ended up with drive-throughs for exceeding track limits. Then in the last few laps the windscreen came loose and fell out, but it was generally good pace-wise. It's a strong podium – could have been even better without the drive-through, but that's on me. We'll take good momentum into Brands Hatch."