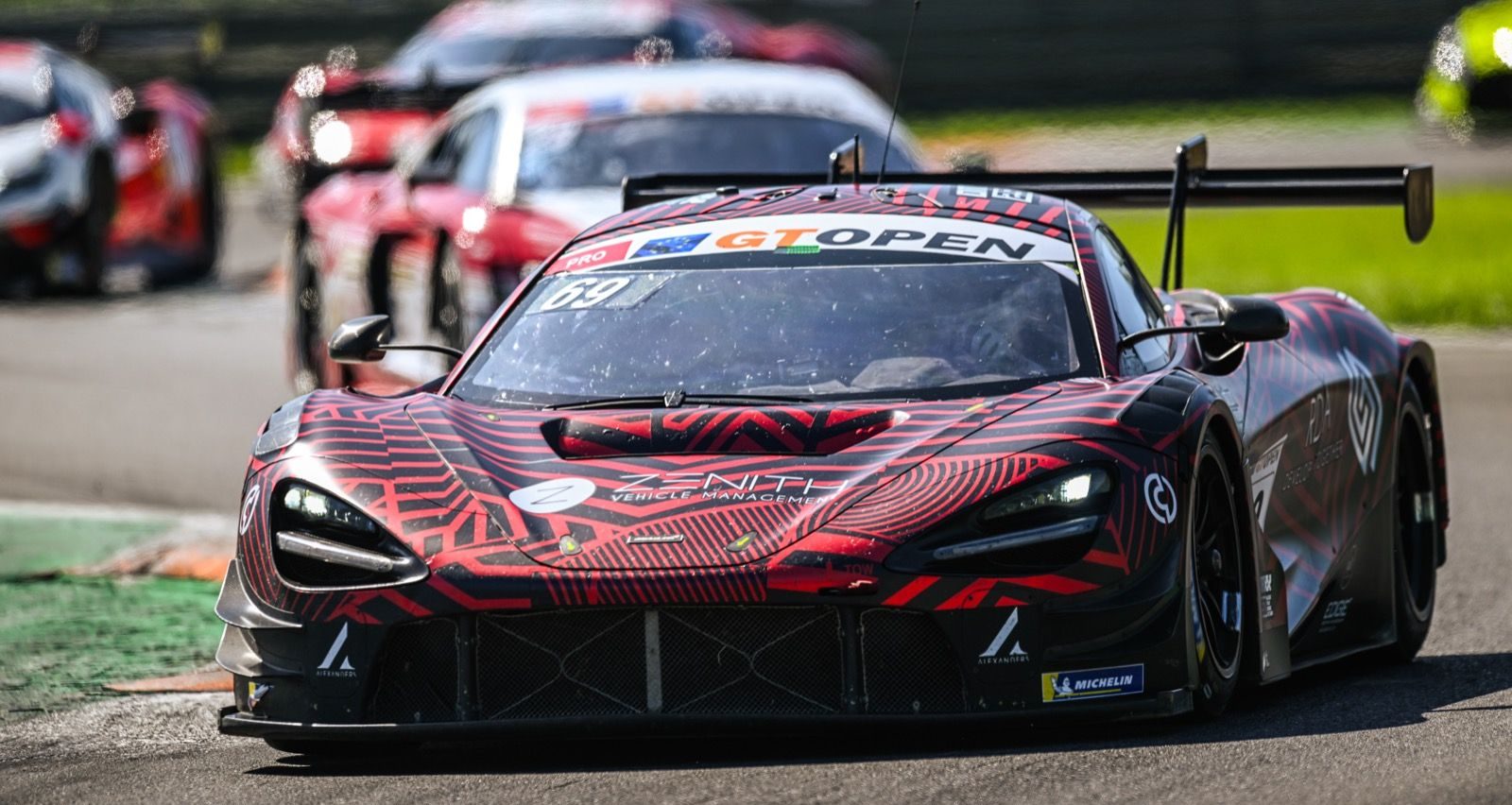 EDGE drivers Sam De Haan and Charlie Fagg came into round five of the GT Open championship looking to extend their lead of the championship standings.
Sam did a stellar job in qualifying 1 putting the Red Zebra in P6. The race got underway and Sam made a fantastic start moving up to P4 by the end of lap 1. Sam did an amazing job by keeping Fran Rueda at bay for 15 laps but on lap 16 Rueda slipped by. At the pit window Sam boxed and handed over to Fagg. Charlie then began a hard charge through the field and was soon challenging his championship rival, Menchaca in P2. Charlie soon got passed and began to hunt down the leader  who was 5.6 up the road with only 12 minutes left of the race. With 5 minutes remaining of the race the Optimum car was now just 3 seconds behind the leader when disaster struck and the McLaren 720s cut out and had to retire resulting in a DNF.
Charlie Fagg in the Optimum Motorsport McLaren took his first pole of the year ahead of Race 2 at the Red Bull Ring. The Brit posted a lap time of 1.28.412 in the very last lap, beating Pierre-Louis Chovet (Oregon Team  Lambo), who had led most of the session, by 0s034.
Fagg was obviously happy after his performance: "It's nice to finish first in qualifying after being second a number of times, and it's nice for the team to resurge after yesterday's issues. Let's look ahead and focus on the championship.
Having taken his first pole of the season, Charlie Fagg took a perfect start in the Optimum McLaren ahead of Chovet, who also started from front row, Barr, L.Proctor, Cheever, Haase, Menchaca, Mettler, Basz and Schirò. The initial laps saw Cheever taking third ahead of Haase and Basz, who  passed Proctor, Mettler and Barr.
By lap 7, Fagg has a 2.6-second advantage on Chovet and Cheever, while behind them there is a fierce Audi duel between Haase and Basz.
On lap 11, Cheever and Basz pass Chovet, whose pace drops and has to let past also Haase and Proctor. Fazal-Karim spins at turn 10 and remained stranded on the straight, which prompts the safety-car out in lap 15. At the restart, the driver change window opens, with numerous cars diving into the pit lane, while Pavlovic spun and got stuck in the gravel trap after being hit, which means safety car again.
After re-start and all changes (lap 27), Agostini lead, with De Haan right behind, then Pulcini, Reicher, Jedlinski, Saada, Rosi and Müller.
More drama strikes in lap 33 when Siebert hits Arrow between turns 6 and 7. The Lambo is sent against the barriers and gets airborne, but luckily lands back on its wheels, with no harm for the Dutch driver. The safety-car is back on duty and the race ends under yellow with Sam crossing the line in P2 and valuable championship points collected