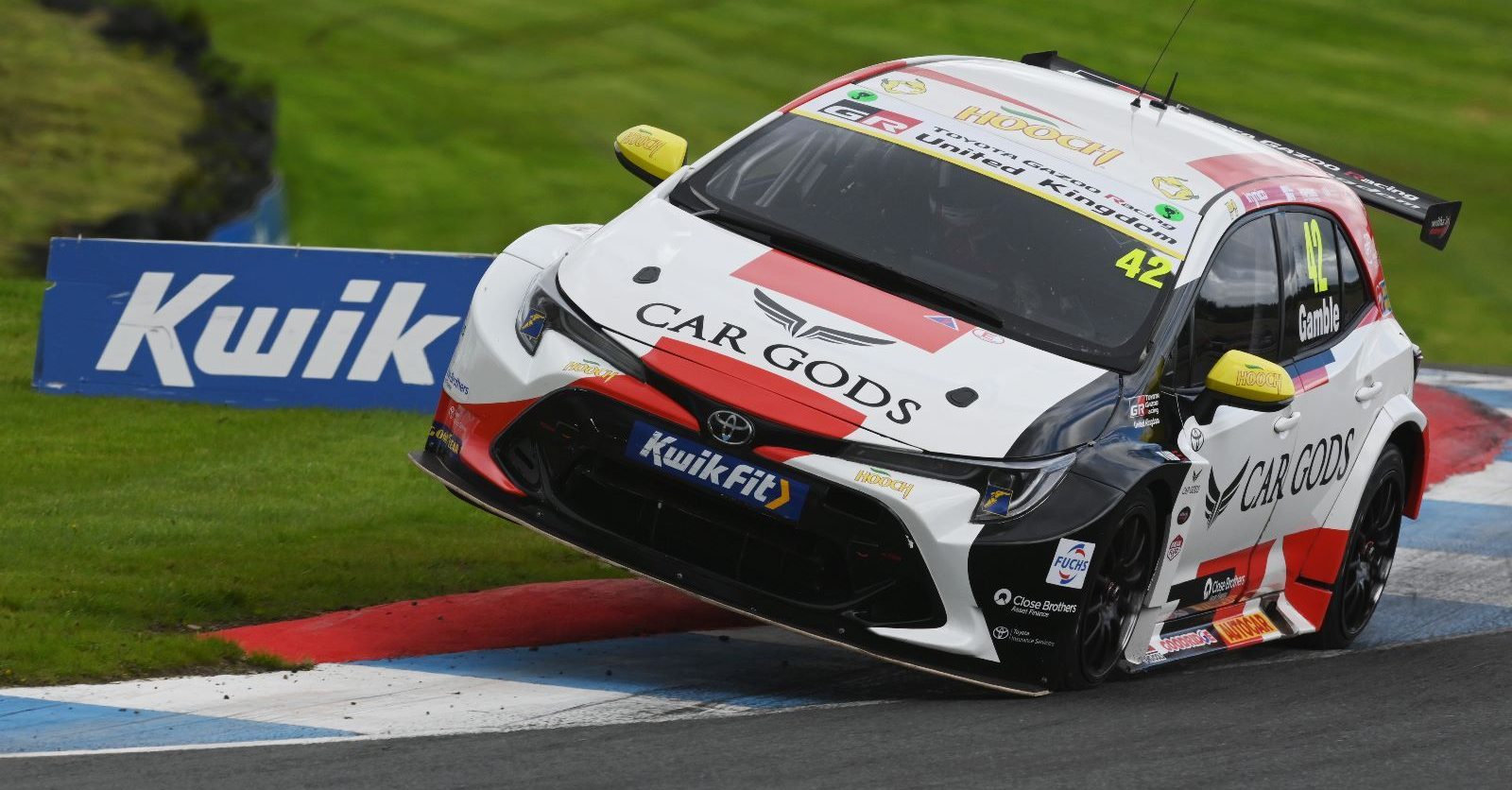 EDGE pilot George Gamble scored a hat-trick of points in the 3 races at Knockhill last weekend (August 12/13).
The weekend didn't get off to the strongest start…In his British-built Toyota Corolla GR Sport hatchback, George Gamble found himself on the back foot for qualifying when technical issues ruled him out of FP2 and necessitated an engine change, leaving him short on preparation time and a frustrated 17th.
In front of the live ITV4 television cameras the next day and a capacity trackside crowd, race one started out dry – but it would not stay that way for long. Gamble similarly switched to wets in race one, which paid off handsomely as he wound up eighth to seal a second consecutive top ten result, before indulging in a duel with four-time champion Colin Turkington in the next outing on his way to 11th – helping Toyota to clinch the manufacturers' trophy for that race.
The 27-year-old Nottinghamshire ace then completed a full house of points finishes by holding off former championship runner-up Dan Cammish for ninth in the third and final contest, with the result cementing his highest combined score since joining the Speedworks Motorsport-run outfit.
George Gamble, Driver, Toyota Gazoo Racing UK, said:
"I normally go really well at Knockhill, and the weekend started out positively in FP1. I was very happy in the car, but unfortunately, we had an engine malfunction before FP2, which meant I didn't turn a lap in that session and consequently couldn't do the fine-tuning we would normally do.
"The team put in a huge effort to swap the engine over before qualifying so I owe a massive thanks to them all, but still, we were in at the deep end a little bit. The only saving grace was that the weather kept changing, which mitigated our disadvantage slightly, and having come through the field well at Knockhill from further down the grid before, I knew it was far from over.
"It was great to be in the mix all day on Sunday, and to bag good points in all three races – while showing some really strong pace in the wet – was fantastic. Hopefully this will prove to be a turning-point for the rest of the season and we can keep our scoring run going into the remaining races."