EDGE driver Lewis Proctor scored his maiden GT World Challenge podium at Paul Ricard in the championships first race of the season that fell into darkness.
The WRT trio of Proctor, Hutchinson and Menchaca all set a combined qualifying performance that see them start the 6 hour race on row 15.
Hutchinson would start the race and after 1 hour managed to get the #31 car up to P18 overall and p5 in class. Proctor took the hot seat next and put in a fantastic stint to bring the #31 up too p4 in class and 17th overall.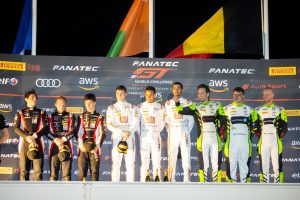 little mistakes were being made by the trio and the team which started to see this race of attrition start to take its victims as the DNF's started to occur as tiredness set in for others. Menchaca would take the #31 final stint of the race and he managed to bring the Audi R8 GT3 across the line P3 in class and 14th overall – a fantastic result for the crew.