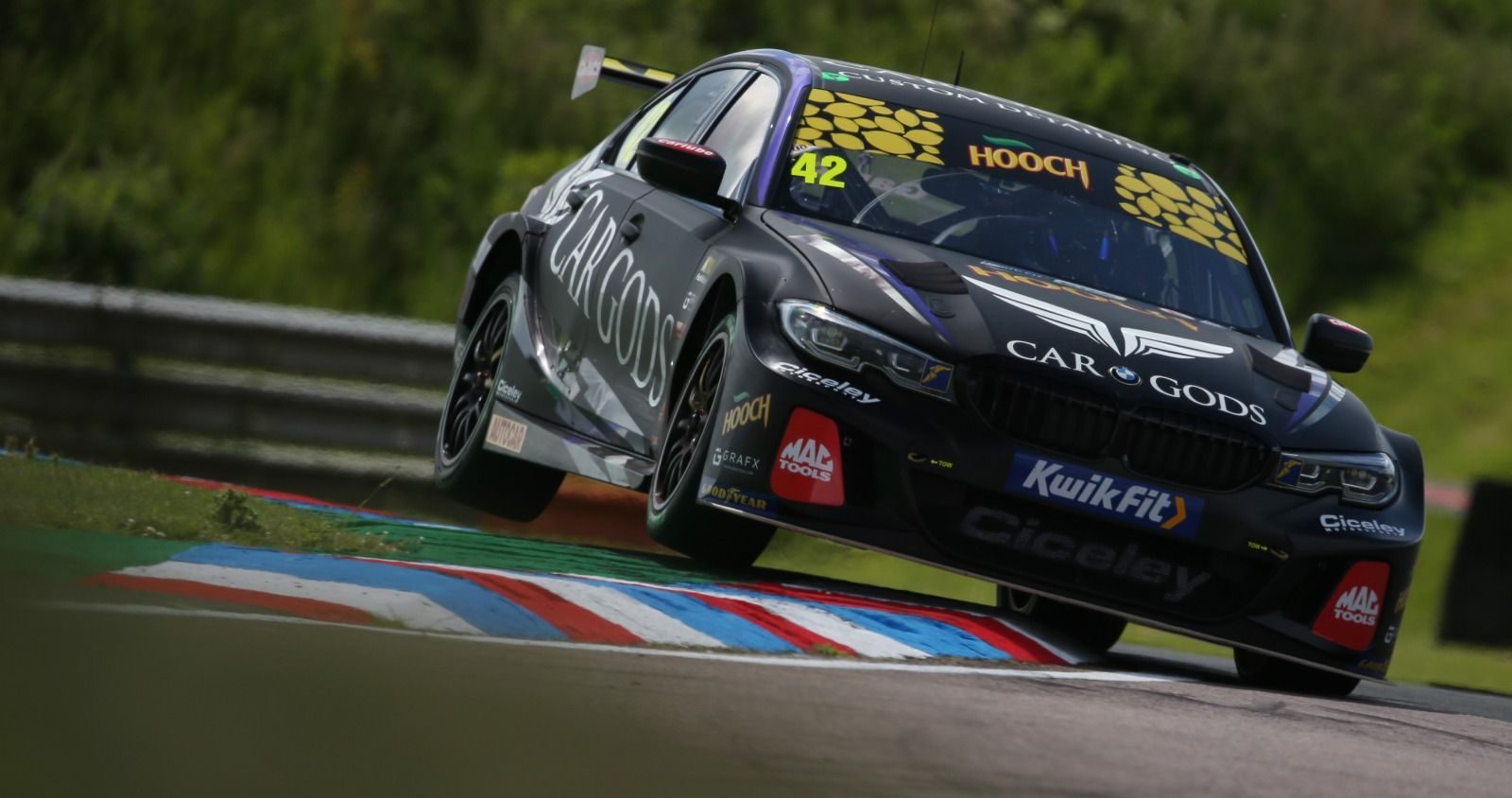 The Car Gods with Ciceley Motorsport team arrived at the fast Hampshire circuit after two excellent weekends, but found that the set-up of the BMW 330e M Sport wasn't ideal. Tweaks were made in readiness for the second practice session and yet more for qualifying in which Adam, held up by a slower car battled to 12th fastest time and team-mate George Gamble 16th, both drivers happy with the progress of the cars but knowing that the balance wasn't yet perfect.
Ciceley Motorsport's engineering squad, led by the experienced Steve Farrell, worked long into Saturday night studying data and analysing the options available. An early start beckoned for the mechanics on Sunday morning as they had to adjust both cars to the new chosen settings, but it was worth it because the cars enjoyed a renaissance throughout the day.
George had a busy race, battling his way to 14th in what he described as a, "Banker race. I found more pace but I just couldn't get through the traffic. The cars are so even and the hybrid isn't enough of a benefit to make passing possible. I was strong in some places and the cars ahead stronger in others so it was a bit cat and mouse."
The two Mac Tools-supported BMWs lined up seventh and 14th on the grid for the second race, but George was in strife on the opening lap when he was clipped by Aidan Moffat's Infiniti Q50 which pitched him into a high-speed spin. "I don't know how I missed the wall…" he mused afterwards. "I wasn't on my best tyres and there was no damage thankfully." Ultimately, 20th was his reward with an "All-out assault plan" for race three.
Race three was set to be a thriller with the reverse grid draw. George fought his way to 14th, again battling hard to get through the traffic and gaining more valuable experience and points in his maiden season in the championship.
The results from Thruxton move Adam into sixth place in the Drivers' Championship and puts George 11th, with Car Gods with Ciceley Motorsport now fourth in the Teams' Championship. Adam lies second in the Independent Drivers' standings with George third and Car Gods with Ciceley Motorsport second in the Independent Teams' Championship just four points off the leading squad.
The next stop for the Kwik Fit British Touring Car Championship is at the team's home circuit of Oulton Park on June 11/12, with qualifying shown on ITV.com on Saturday and the raceday action starting on ITV1 before switching to ITV4 for the third race.