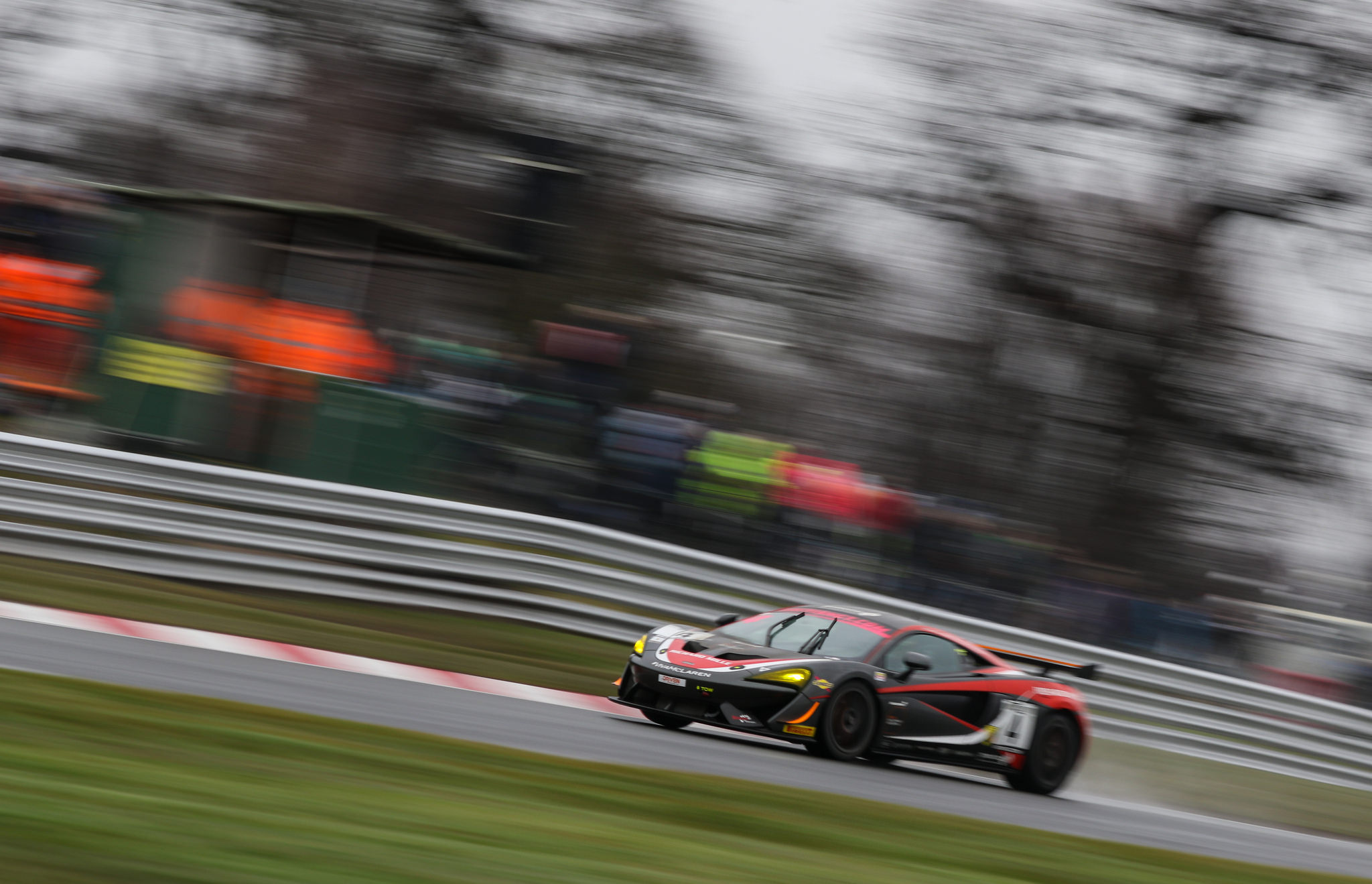 Charlie Fagg celebrated a successful start to his 2018 British GT campaign in his Mclaren 570s GT4, after stepping onto the overall and both class podiums at Oulton Park last weekend. Charlie and teammate Michael O'Brien took home a Silver class win and second overall, with teammates Jordan Albert and Lewis Proctor taking a Silver class podium finish.
Following a long winter of pre-season preparation and testing, the Tolman Motorsport crew headed to Oulton Park for the opening round of the 2018 British GT Championship. "It's been an incredibly tough journey and hard work going from one car to three, and being given the opportunity to run the cars for the McLaren Automotive Driver Development Programme is fantastic" Chris Tolman said. "We're no longer a small race team!"
Race positions for the majority of the British GT season are decided on the combined qualifying times from the driver pairings. However, for the two by one-hour race weekend format, O'Brien, Pattison and Proctor's fastest time set their position for race one, with Fagg, Osborne and Albert's times determining race two's starting spot.
With the GT4 grid the largest it has ever been in British GT and Oulton Park being a difficult circuit to overtake on, due to its narrow nature, it was going to be crucial to qualify as close to the sharp end as possible.
Charlie took to his first ever GT qualifying session like a duck to water, placing the #4 McLaren P3  overall and his teammate O'Brien posted a time good enough for P2 for race one. "We had a pretty good quali session" Charlie commented, "I lost a couple of tenths in the last corner, but I cracked on and qualified third which gave me a lot of confidence for the race."
As predicted leading up to the weekend, the race was declared wet and the event officials made the decision to start under safety car conditions. This only lasted for a couple of laps before the British GT field were allowed to be let loose on the International circuit.
The McLaren Automotive Driver Development Programme young gun made a very impressive debut in the Tolman Motorsport McLaren, with Fagg crossing the line P2 overall and the first Silver class driver in #4 Mclaren.
Race two was, again, started under safety car conditions and shortly red flagged as Oulton Park quickly turned from a race track into a river. Due to the large amount of standing water around the Cheshire circuit, the event officials not only abandoned the second British GT race, but the rest of the meeting. Discussions as to whether any points will be awarded for race two are ongoing.
The team now look forward to round two at Rockingham Motor Speedway on the 28th and 29th of April, where they will compete in the first two-hour race of the year.
Quotes:
Charlie Fagg #4 – "I couldn't ask for too much more from race one. Mikey had a fantastic start and his pace was really good. When I got in the car at the half way point, I felt super comfortable straight away. I came out of the pits behind the HHC Ginetta and Century BMW, but managed to pass them both. My stint was pretty clean. The team were faultless all weekend; we didn't have any problems with the car. As first weekends go with a new team, a three car team, it all went perfectly."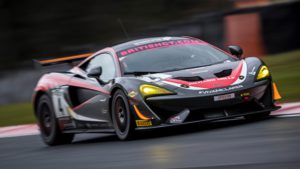 Michael O'Brien #4 – "Qualifying was good, second place for race one and that's where we finished. Which was great. Slightly disappointed that I couldn't get past for the lead, as I was behind him the whole way. It's tricky to overtake at Oulton Park as it's such a narrow circuit. I've learned a lot; it's been a weekend of firsts! The warm up session, the driver change pit stop. I'm looking forward to going again now. The Tolman team are incredible, it's so well organised. There's always someone there if you need help or advice for anything. The support from both Tolman and McLaren is second to none, I couldn't be happier!"