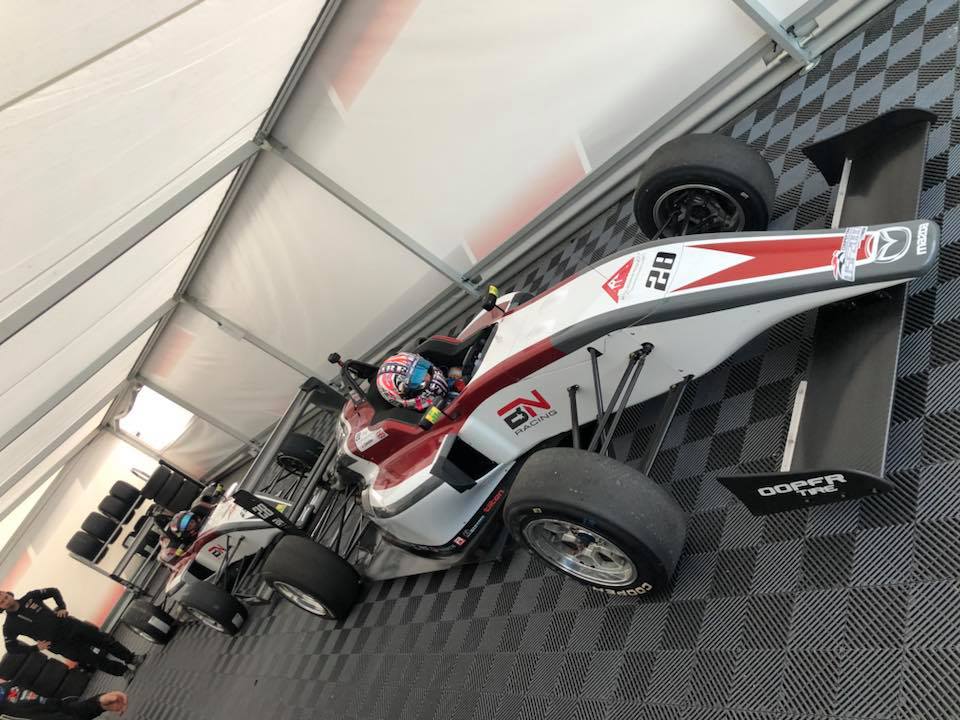 After a last minute deal to race in the states Caroline jumped into his BN Racing prepared USF2000 car completely blind as to its performance. This mattered not as the British F4 champion from Warlingham, England, displayed his capabilities by setting the pace during the early stages of qualifying, despite having absolutely no time in a USF2000 car prior to the opening race event of the season, only to end his session early after making contact with one of the omni-present walls. Unfortunately, he did the same during the race after climbing from seventh to second place inside the opening laps. A DNF was to follow his contact with the wall.
Race two saw the 25-car field take the green flag under picture-perfect conditions on the famed St. Petersburg street circuit.
Baron, 23, who lives in Narbonne, France, and holds dual British and French citizenship, made full use of his pole position to lead from Fraga, who started alongside him on the front row. Kohl, who is coached by former F1 and IndyCar racer Roberto Moreno and is beginning his third season of USF2000 competition, slotted into third ahead of British Formula 4 champion Jamie Caroline (BN Racing) and yesterday's winner Kyle Kirkwood (Cape Motorsports), from Jupiter, Fla.
Baron, Kaylen Frederick (Pabst Racing), from Potomac, Md., who ran sixth in the early stages, Kohl and Caroline traded fastest race laps during the opening handful of laps before Baron asserted himself as Fraga was forced to focus on intense pressure from behind. First to challenge him was Kohl, who dived for the inside under braking for Turn One on Lap Four, only to run in too deep and relinquish two places – to Fraga and a close-following Caroline. Five laps later, Caroline tried an identical maneuver – with a similar result as Fraga was able to regain his second position. The only difference was that Caroline was able to maintain third, as Kohl had fallen into the clutches of Kirkwood.
As Baron romped clear, Fraga and Caroline continued to squabble over second place, with Kohl resolutely holding onto fourth despite continued efforts from Kirkwood.
After a brief caution period on Lap 20, when a strong run by Pabst Racing's Swedish rookie, Rasmus Lindh (who climbed from 14th on the grid to sixth), ended in the wall at Turn 13, Baron timed his restart to perfection and took the checkered flag well clear of Fraga. The race actually finished under caution after Mexican Manuel Cabrera (Exclusive Autosport) found the wall in Turn Eight.
Behind, Kohl sneaked past Caroline at the restart for third which put Caroline in P4, a fantastic result considering the lack of seat time and learning a new circuit.