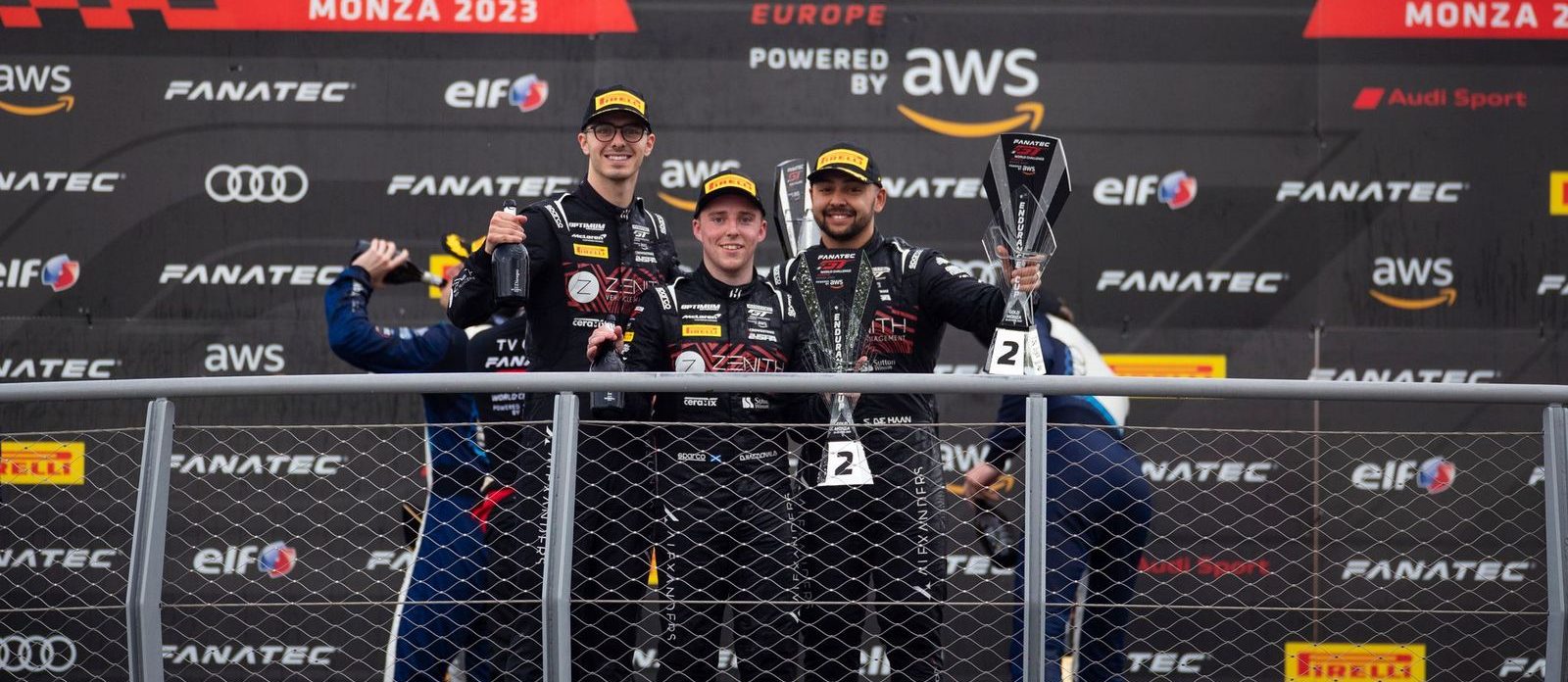 The newly-formed EDGE trio of Charlie Fagg, Sam De Haan and Dean MacDonald claimed the second spot on the Gold Cup podium after a second-place finish at Fanatec GT World challenge Europe's 2023 season opener at Monza, Italy.
The #5 Optimum Motorsport McLaren claimed points even before any qualifying or race results after Charlie's second-place class finish in the Fanatec Esports GT Pro Series saw the Brit claim four points. Albeit, the racing was in the sim world, the points also count towards the teams' championship in the 'real world' racing series.
Come Sunday morning it was time for qualifying, and the series' format would see each of the three Drivers contest in a 15-minute session each, with the average combined time determine the starting grid for the afternoon's race. However, power shortage supplies at the circuit meant that it was deemed unsafe to commence Q3 (the third qualifying session) thus Charlie's and Sam's average time from Q1 and Q2 saw the team line-up on class pole and 11th overall.
55 cars into Turn 1 at the Temple of Speed was bound to throw caution to the wind, and that, it did. Scholze in the Mercedes-AMG and the #38 Ferrari collided before the entry into the first chicane, causing the first of two Safety Car periods whilst stewards worked hastily to repair the damaged barriers.
An unreal stint from Charlie who was on starting duties in the McLaren, making his way up to seventh overall with over a seven second gap to the rest of the Gold cup field whilst battling upfront amongst the Pros, keeping Mercedes legend Marciello at bay for the entire 1 hour stint.
One hour ticked by and time for the first (of many) pit stops in this year's GTWC championship. As expected, the pits were busy! Unfortunately, the team lost a little time during the stop due to a neighbouring team missing their box and over shooting into Optimum's which saw Sam drop down to third when he re-entered the field. It was then a hunt, for both him and Dean who was in the final hour for the Optimum trio. Sam pit in an amazing stint and handed over to Dean for the final hour.
With 32 minutes to spare the Red Zebra caught up to its prey which came in the form of the #30 BMW…Dean was a man on a mission! The team crossed the line to claim second at the Temple of Speed, collecting valuable points across the Esports, qualifying (in which 1 point was awarded for pole position) and in the race. Circuit Paul Ricard hosts the next round on the Fanatec GT World Challenge calendar, the 1000KM six-hour enduro on June 3.