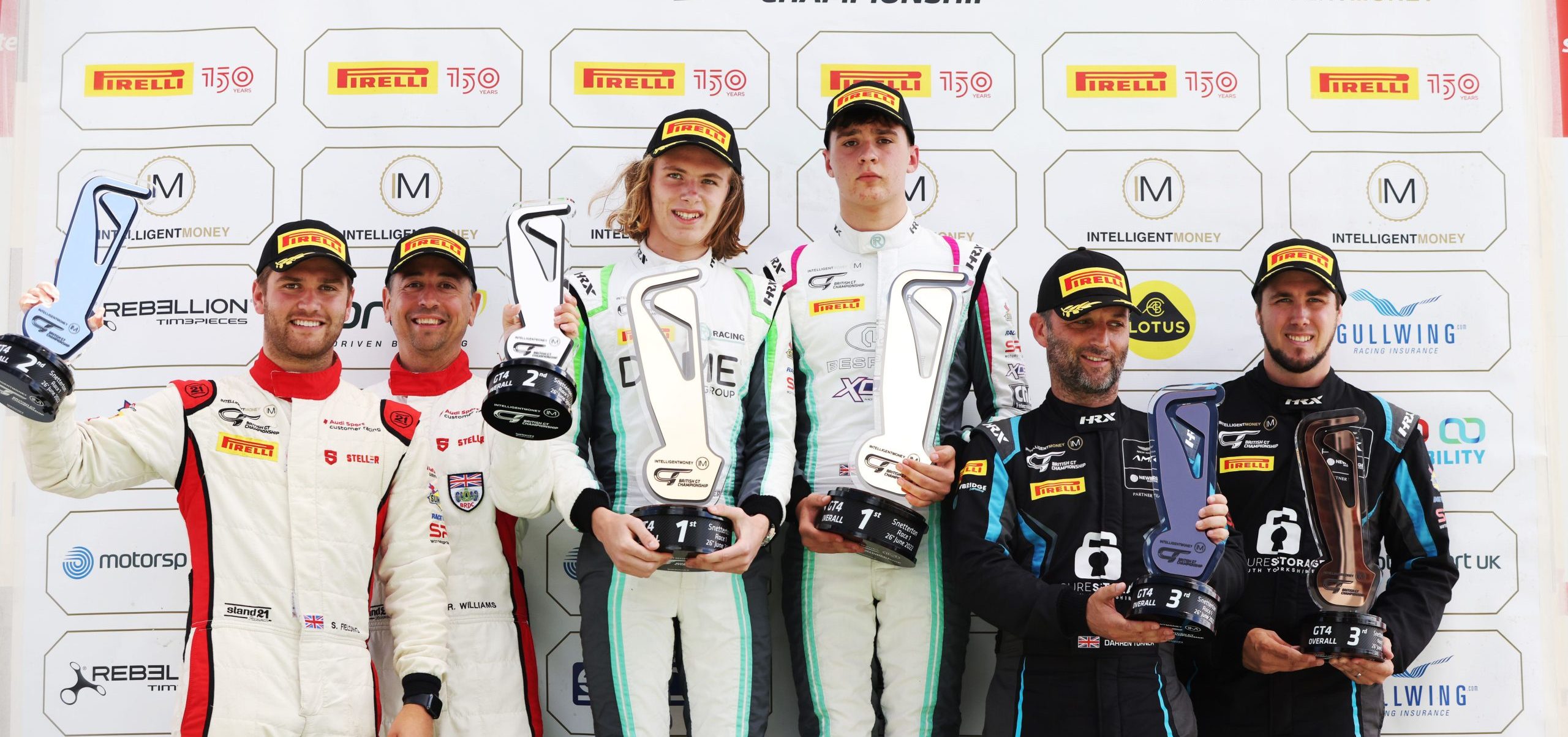 EDGE driver Josh Miller and teammate Jamie Day wrote their names into British GT history by becoming the championship's youngest-ever race winners after their R Racing Aston Martin Vantage emerged on top of a topsy turvy first race at Snetterton.
The teenagers successfully lowered the previous record held by Will Tregurtha and Stuart Middleton – which had stood since 2017 – when Day assumed theoretical top spot in the closing minutes after trouble befell the long-time race leaders.
Victory looked to be heading the way of Matt Cowley and Marco Signoretti's Academy Motorsport Ford, but a late collision with Team Parker Racing's Porsche put the Mustang out and earned the Cayman a post-race 10-second stop-go penalty in lieu of a drive-through.
There was drama even before the start when an electrical issue prevented Steller Motorsport from getting its championship-leading Audi shared by Richard Williams and Sennan Fielding to the starting grid. However, the team did manage to get the car running in time for Williams to start from the pitlane, remain on the lead lap and benefit from several issues ahead.
Cowley made a great start from pole and produced a textbook opening stint as he pulled well clear of the chasing pack – essential if Academy were to overcome their maximum 10-second Success Penalty for winning at Donington.
Cowley's charge was aided by a tight battle for second, which featured the Toyota Gazoo Racing UK GR Supra of Tom Edgar, Miller's Aston Martin and the charging Jamie Orton in Team Parker's Porsche. Orton eventually scraped his way into third before diving to the pits to hand across to Seb Hopkins, while both Academy and R Racing opted to run their starting drivers deeper into the window.
Cowley's pace was sufficient for Signoretti to re-join a car's length ahead of Hopkins who jumped the Toyota in the stops when Edgar and Jordan Collard served their own Success Penalty.
Hopkins pushed hard but it looked like Signoretti had things under control until contact with just nine minutes remaining at Brundle spun the Mustang across the Porsche's bow, which put it out of the race with left-rear suspension damage. The stewards responded by issuing Hopkins with a 10-second stop-go penalty that would be applied post-race and elevate Day/Miller's Aston Martin – which had been closing down the leaders – to a historic victory.