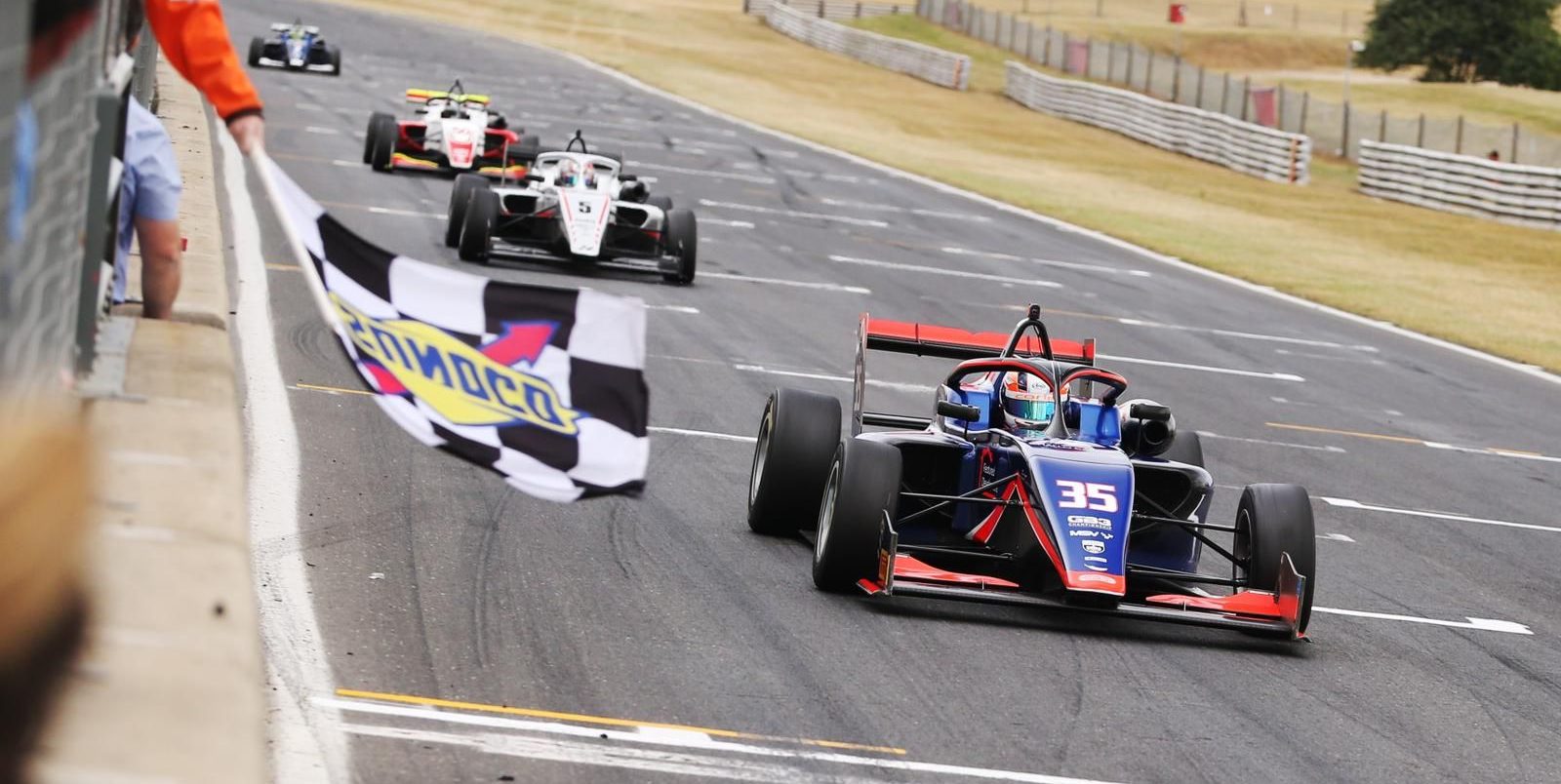 Callum Voisin took his second victory of the season at Snetterton on Saturday with an impressive lights to flag victory for Carlin. The British racer placed his car on pole position during a fiercely competitive Saturday morning qualifying session as the fourth round of the 2022 GB3 Championship got underway.
Following two days of testing at Snetterton on Thursday and Friday the fourth round of the season got underway on Saturday morning with a qualifying shoot out. The Carlin trio ran well in the opening stages however the track conditions quickly improved and the times began to fall as a result. In an incredible final lap push Voisin came from seemingly nowhere to light up the timing screens and spectacularly place his Carlin car on pole position as the flag fell.
Race 1
Saturday afternoon provided a fantastic result for Voisin who launched from his pole position brilliantly as the lights went out and controlled the pace well from start to finish. Withstanding a little pressure from championship leader Luke Browning, Voisin drove well to clinch a lights to flag victory.
Race 2
Based on the second fastest laps, the second race of the weekend saw Voisin start fifth. A good start saw Voisin settle into P5. Unfortunately Callum suffered an off on the sixth lap of the race which put him out with a DNF.
Race 3
The full reverse grid race three saw action from the start as everyone fought from their positions. The Carlin trio had work on theirhands after a strong qualifying, especially for Voisin who, as a result of his pole position, started at the very back in 2.  However all three drove brilliantly tocollect strong points for their overtaking moves with Sagrera breaking in tothe top ten in ninth, Faria 13 and Voisin 17
Voisin said after his race one victory, "It was great to take victory in race one at Snetterton. I got a good start and just about managed the gap behind me but I was under constant pressure from Luke(Browning) behind so it was crucial to get everything right."
The conclusion of the weekend at Snetterton marks the mid-point in the championship. The next round will take place at Spa-Francorchamps in July.