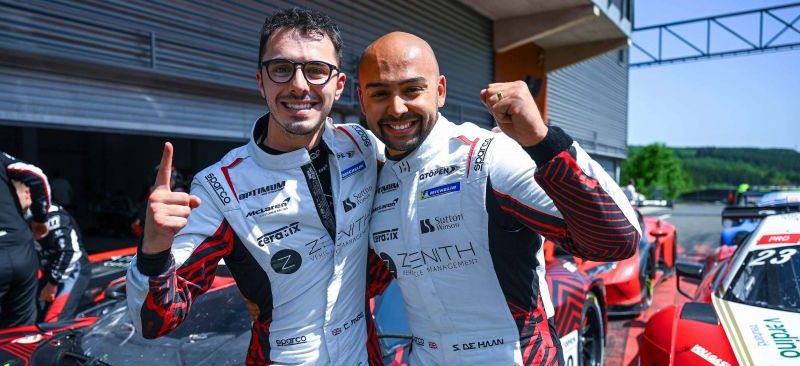 The red Zebra took its first win of the season in a lively and incident-rich Endurance Race at Spa-Francorchamps.  EDGE pilots Sam De Haan and Charlie Fagg emerged at the end of the race and resisted to the attacks of the Eastalent Racing Audi of Simon Reicher-Christopher Haase, second by a mere 0s067, with Diego Menchaca and Marcos Siebert taking third. De haan-Fagg now lead the championship standings with 50 points, ahead of Menchaca-Siebert (45) and Reicher-Haase (42).
Fourth overall and winners in Pro-Am were Antares Au-Matteo Cairoli, in the Huber Motorsport Porsche, after Sandro Mur-Martin Kodrić in the Bonaldi Motorsport Lamborghini who crossed the line first, were penalized (like ten other cars) for a pit stop infringement, while the Am win was for the AF Corse Ferrari of Jean-Claude Saada-Conrad Grunewald.
THE RACE – At the start, Reicher from pole has a perfect kick-off ahead of Menchaca, De Haan, Pitamber, Marinangeli, Paul and Kolb, while there is a contact in the middle of the group at La Source between Perolini, Jans and Jousset but everyone is able to continue. Menchaca starts attacking Reicher and takes the lead with a dive at La Source in lap 8. De Haan also will pass the Austrian, threatened also by Pitamber, but in lap 11, the South African spins in front of the Cup car of Fecchio and both end in the gravel, prompting the safety-car out. The Mercedes manages to get back to the pits, and first pit stop window opens as soon as the safety-car period is over, in lap 13. The safety-car, though, is back in lap 17, following a spin of Liebhauser.
By lap 20, Cheever leads ahead of Rumpfkeil, Basz, Kodric, Blom, Jefferies, Sernagiotto and Siebert, while shortly after Arrow, Cairoli and M.Bochez get tangled at the last chicane, with no damage. The second pit stop opens after one hour 25 minutes. The safety-car will be out two more times in a short while, first to rescue a GT Cup car (Pisani) then after a double spin by Perolini and Sartingen, who is collected by Cozzi.
The last pit stop, the one used for serving the handicap, opens in lap 36. After that, it's Lietz leading but the joy for the Lionspeed Porsche is short-lived as the car slows down evidently in lap 43 before stopping in the pits with a mechanical problem.
It's Charlie Fagg leading the final stretch of the race, closely followed by Kodric, Haase, Cheever, Siebert and Cairoli, with six different car brands represented in the top-6. While Cheever drops following a puncture, Haase takes second and closes on Fagg, who is struggling with the tires, but manages to keep the advantage despite a desperate final attack from the Audi.