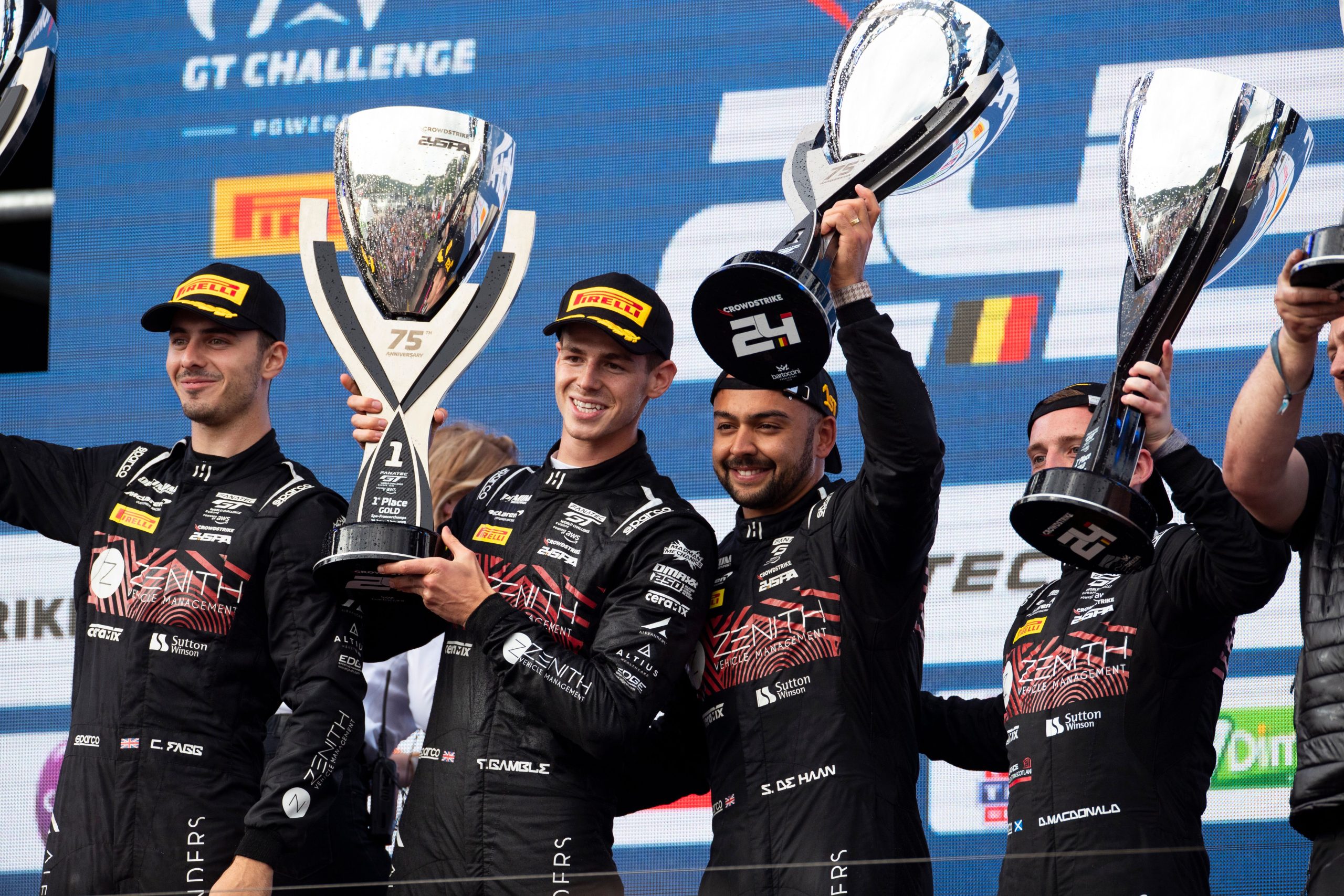 The all EDGE Driver line up of Tom Gamble, Charlie Fagg, Sam De Haan and Dean Macdonald won the biggest GT3 race in the world, the 24 Hours of Spa-Francorchamps. The EDGE quartet claimed a top-10 overall result in a highly competitive 70-car field whilst also finishing as the highest placing McLaren.
As with all Fanatec GT World Challenge Europe events, each driver takes part in a 15-minute session on-track, with the average time determining the starting grid for the main race, and the top-20 overall advancing to Super Pole.
As usual with Spa, it rained, and it rained a lot – getting progressively worse as the qualifying sessions went on. With Q1 being the only 'slightly' drier session and with changing weather conditions producing an entirely unpredicted result, 13 cars from outside the Pro class reached Friday's Super Pole.
The #5 Optimum Motorsport McLaren claimed an unbelievable second overall and went head-to-head with the #9 Boutsen VDS Audi for Gold Cup pole. Dean MacDonald was the nominated driver for the teams' shootout, heading out as the penultimate car ahead of the Pure Rxcing Porsche. The flying Scot set the fifth overall fastest time, claiming the Gold Cup pole position along with an all-important point towards the team and drivers' championship.
Heavy rain fell prior to the green flag on Saturday afternoon however, as the clock ticked closer to 16:30PM CEST the temperatures rose and the track dried fast, with many teams changing from wets to slicks.
With points at the six, twelve and of course, the 24-hour junctures, track position was vital for teams within championship contention. At six hours, Dean claimed five points whilst running fourth in class.
With just Optimum and Team WRT as the only 2 Gold Cup cars on the lead lap, it was a battle as to who would claim the maximum points at the 12-hour juncture. A prolonged Safety Car period after a large incident on track which saw barrier repairs last over an hour saw the field progress into the second half of the race under FCY which saw the #5 crew claim 12 points.
Shortly after, the team boxed for their Technical Pit Stop, a mandatory stop which must have a minimum duration of four minutes from pit-in to pit-out. Then, as night turned into day the #5 quartet began to push their way through the field, extending their class lead with 6 hours to go by over 40 seconds.
From there, it was Dean, who claimed the class pole in Friday's Super Pole, who crossed the line on Sunday afternoon to bring the #5 Optimum Motorsport McLaren home along with the win.