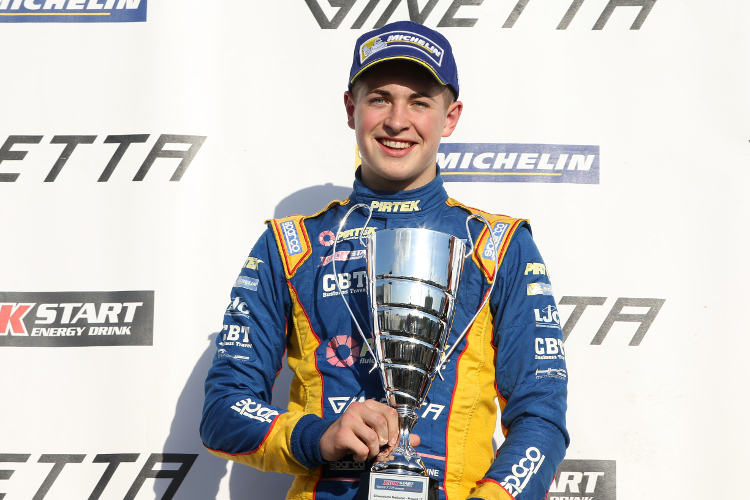 It was a weekend of highs and lows for Pirtek Racing's Jamie Caroline in the KICK Start Energy Ginetta Junior Championship during rounds 17 and 18 at Silverstone over the weekend (26/27 September).
 
 After a dominating lights to flag victory in the opening race, Jamie was knocked out of contention in the second race and finished down in 16th place. Jamie still takes a six-point lead into the final race weekend of the season at Brands Hatch on October 10/11.
Jamie qualified second fastest in the ever closely-matched Ginetta Jnr field with only 1 second separating the top 21!
In race 1 Caroline took control of the race immediately and got the perfect start to jump into the lead. Caroline then dominated the race and was the first Ginetta Junior driver in five years to score a lights-to-flag victory at Silverstone.
"I got the jump at the start and broke the tow in the early laps," said Jamie. "It is easy to get reeled back into the pack but I got away and was able to watch the track limits, as that was quite an issue for some drivers. It was a really important result for the championship."
Race 2 was somewhat of a different story. As the lights went out Jamie slotted into second place from pole on the opening lap but was pushed back to fourth before a safety car period. He then battled back up to second place but disaster struck with two laps to go when heavy contact from behind pushed the bodywork onto a rear tyre. With the tyre overheating, Jamie struggled for grip and dropped right down the order to limp home in 16th place.
 
The result has cut Jamie's championship lead to just six points heading for the final two races of the season at Brands Hatch on 10/11 October.