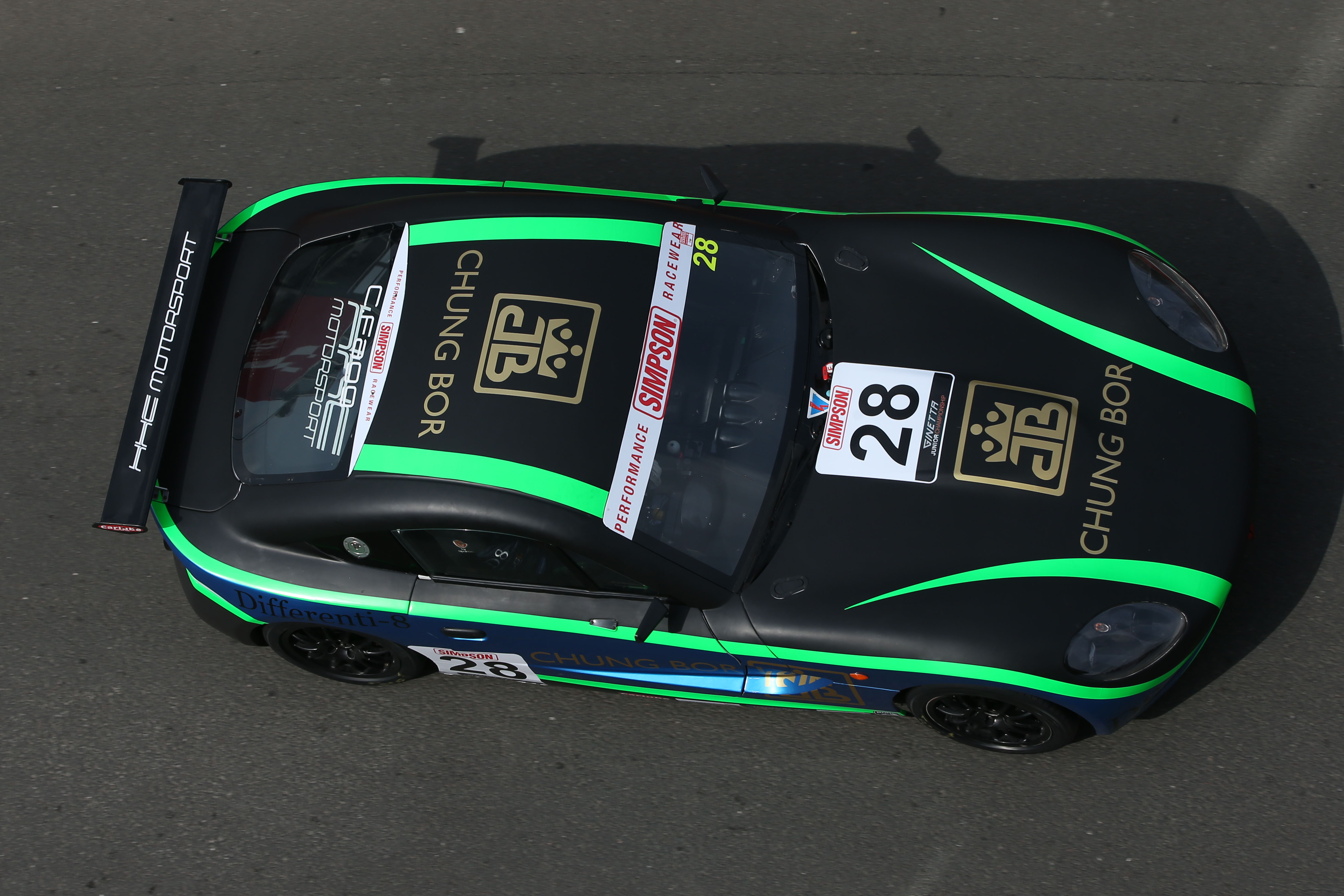 Charlie Fagg came into qualifying for round 2 of the Ginetta Junior championship at Donington feeling confident that he was able to progress on from his mixed opening round at Brands Hatch two weeks prior.
A short blast of snow and sleet meant the track temperature was low, but as qualifying got underway, the infamous Donington circuit soon became damp and was drying quickly. Five minutes in and Fagg was lying P5 and showing promise just behind behind his team mate, Lewis Brown. As the track dried and temperature was getting warmer, the team decided to call all cars in to drop tyre pressures to suit the changing conditions. With time ticking away, Charlie only had one lap to put in his fastest time due to the pitstop. Charlie's hot lap was looking impressive, but dropping a wheel on to the grass out of the last chicane cost the 16 year old dearly and lost him nearly a second. A time which would have seen him P4 until his mistake meant that Charlie would be starting race 1 from P14
Clouds hovered over a very cold Donington Park, and Charlie lined up on the grid in P15 for race 1.
On the green flag lap it became very clear this was going to be a entertaining race, as hail stones began to fall. As then lights went out Charlie made a good start and made his way up to P13, but due to the tricky conditions, the safety car was soon out. Once the stricken cars had been recovered, the safety car lights went out and racing recommenced. Unfortunately Charlie was a little too enthusiastic with the throttle pedal and spun on the exit of the chicane, thus compromising the remainder of the race. He regained his composure and fought back up to P15.
A busy Saturday saw not only qualifying and race 1 for the Ginetta Juniors, but also they had their second race of the three planned for this weekend.
Starting Race 2 from the result of Race 1 meant Charlie would again line up in P15. As the lights dropped, Charlie made a great start, and by the 4th corner Charlie was up to P10!
Unfortunately later that lap Charlie got hit by Perez and ended up with quite a bit of cosmetic damage to the rear of his car that resulted in him bringing his wound machinery back home in P14.
P14 seemed to be Charlie's grid slot all weekend and this is where he lined up for the final race on Sunday. His team mate Tom Gamble lined up alongside him and this had all the ingredients for a great race. Charlie made an incredible start leaving him P9 by the exit of the final chicane on the first lap, and yet again, in true Ginetta Junior fashion, the safety car was called out a the end of the opening lap.
After the restart Charlie managed to maintain his position in P9. As the clock ticked down and the lead bunch were being closed down by Charlie, there just wasn't enough time to make an impact due to the lengthy safety car stint. A late lunge from front runner Stuart Middleton relegated Charlie down to P10 and this is where he would finish the final race of the weekend.
A disgruntled Charlie commented, "Well its been a steep learning curve again this weekend. It's all about qualifying in Juniors. We made a mistake with the set up and then I made an error on my push lap. We knew we would be on the back foot from quail and once your in the mid pack its really a game of bumper cars, so I'm pretty disappointed to be honest. I have learned a lot this weekend and thats what this year is about for me to be honest. I haven't had much race experience so being in the mix, mid pack, is teaching me a lot! Onwards and upwards!"
Edge Management said, "Charlie has had a pretty tough weekend all round. He has learned a lot, and I think his mistake in qualifying which cost him dearly will really hit home to him how important those 15 minutes of quail are for the weekend ahead. These youngsters are all here to learn, and Charlie has had his fair share of learning this weekend, so we will work with him to learn from his mistakes and push on to the next round at Thruxton in three weeks time.