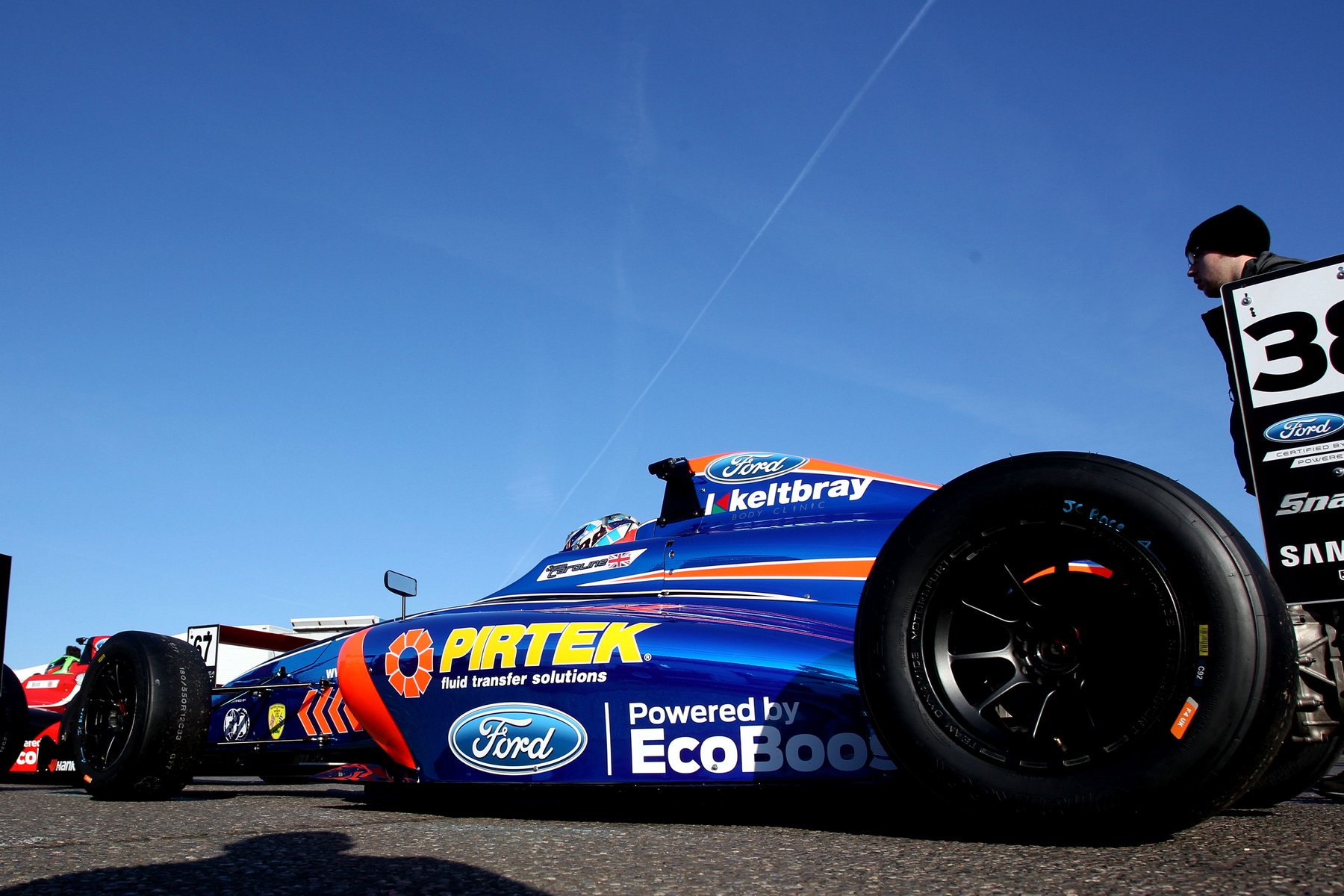 Pirtek Racing backed Jamie Caroline came away from a very wintery Donington Park race weekend with three top ten point finishes in Formula MSA, and probably one of THE most spectacular opening laps to a race ever witnessed in the championship.
Qualifying saw Jamie with some great pace in the opening laps putting him in the top 5 initially. However, Jaime had two of his fastest laps taken away from him due to exceeding track limits leaving the 17 year old down in a very disappointing P15, and with lots of work do across the 3 race weekend.
Race one of the MSA Formula was probably the most exciting first laps in racing ever witnessed and it was Jamie that were to be the lead protagonist. Mixed and tricky track conditions played into the hands of Jamie perfectly. As the lights went out Jamie seemed a class of his own and hustled his Jamun prepared F4 car around the outside of the majority of the field and was lying in P6 by the end of lap 1! He had overtaken and incredible 10 cars on the first lap! This opening lap has been likened to Ayrton Senna's performance in 1993, in the wet, at Donington! This skill and demonstration of phenomenal car control was short lived however as Jamie mis judged his braking into turn 1 and took a small trip through the gravel trap, and thus demoting him back down the order to P13.
He then fought back through the pack for a second time and back up to P8. A heroic drive showing true ability and phenomenal car control.
Starting P8 for race 2 had a potential podium written all over it. The lights went out and Jamie got a great launch off the line. Trying to around the outside of the pack into turn 1 then resulted in Caroline being squeezed wide and onto the grass. This put Jamie right down the order to p12. As the race progressed Jamie made some fantastic moves and slowly picked his opponents off one by one, resulting the Jamie crossing the line in P5! A great race from the 17 year old.
Race 3 would see Jamie starting from P15 again which was his second quickest time from qualifying. With a much more relaxed vision for this race and aiming to score a few points, Jamie decided to play a slightly more conservative card for this final race of the weekend. Jamie made another storming start in his Jamun Racing-run car to end the opening lap in ninth place. An impressive move into Redgate on lap three saw him make up two further positions and the would remain in seventh through to the finish, having been forced to defend to keep the quicker car of Rafael Martins at bay.
Jamie commented, "Im annoyed that we had a bit of an off in qualifying and that really put us on the back foot from the off. I think the races went pretty well, and I really enjoyed the first race on Saturday in the wet. All in all we can take some positives away from the weekend, but also I need to work on my consistency in the race and also my qualifying. I can't wait to get to Thruxton!"
Edge Management said, "I think Jamie has showed the paddock what an awesome raw talent he is. That first race in the wet was phenomenal. We still have some work to do on his pace in qualifying, and once that is sorted we know that Jamie will be taking race wins."