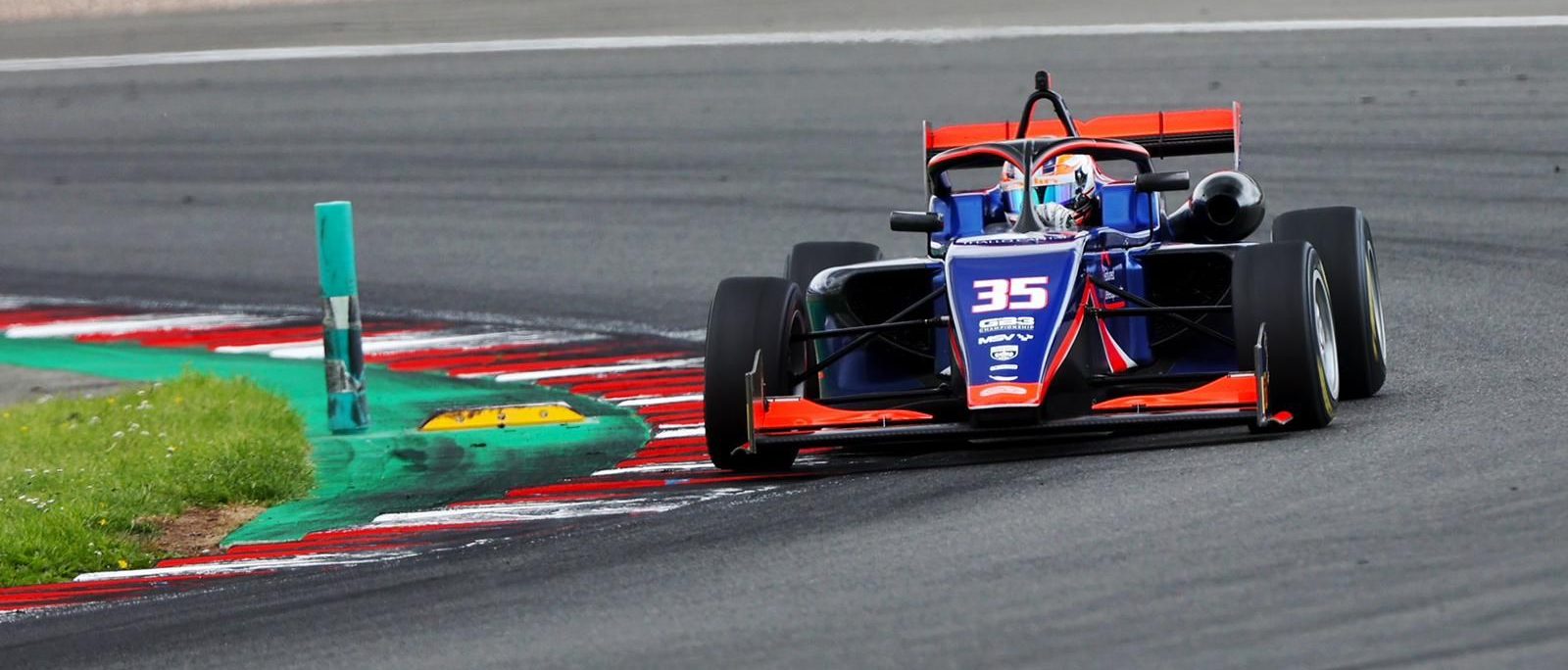 EDGE driver Callum Voisin has stormed his way to his first GB3Championship victory after a brilliant race around Donington Park circuit this weekend. The Anglo-Swiss driver placed his car brilliantly to take advantage of, and avoid, drama ahead to clinch the race lead and win – also marking his first single-seater victory.
A bumper field of 22 cars entered for the weekend at Donington Park meant the 20-minute qualifying session was a tense, but exciting, one to witness. In the end, the times were incredibly close for the whole field with Voisin setting the third fastest time – the top eleven split by only 0.653s.
Qualifying also set the grid for race two with the second fastest times being used. Once again the laps were super close with Voisin qualifying second – this time only 0.527s splitting the top 11.
The opening race of the weekend was dramatic to say the least, from the moment the lights went out with the front row starters of Joel Granfors and Matthew Rees colliding after just a few corners. Voisin and team-mate Faria were able to make their way through the melee brilliantly to launch themselves up into the lead and second respectively. From there Voisin began to pull a gap and didn't look back to take his first single seater victory and claiming a Carlin 1-2 with Faria right there with him.
Voisin said after the race, "'I'm pretty speechless right now. I got a decent start, but the other two in front – Rees managed to get just alongside Granfors – but then they collided at McLeans and I managed to slip through without any problems.
"From then on it was just managing the tyres and managing that gap. I'm over the moon."
Race two on Sunday morning was another lap one incident filled race; this time it was Voisin who lost out as he went for the race lead. Trying to claim the position from Max Esterson, the Carlin driver was wheel to wheel but ran wide and dropped back to sixth as a result. Voisin set his sights on regaining the positions but suffered another small moment as he battled, which dropped him to seventh where he would finish the race.
The afternoon race saw the full reverse race grid take place in which points are also allocated for the number of positions gained on track. Voisin fully took this to heart and battled his way through from 19th on the grid to finish in seventh – taking a huge haul of points in doing so.
The fourth round of the championship will get underway June23-26 at Snetterton.