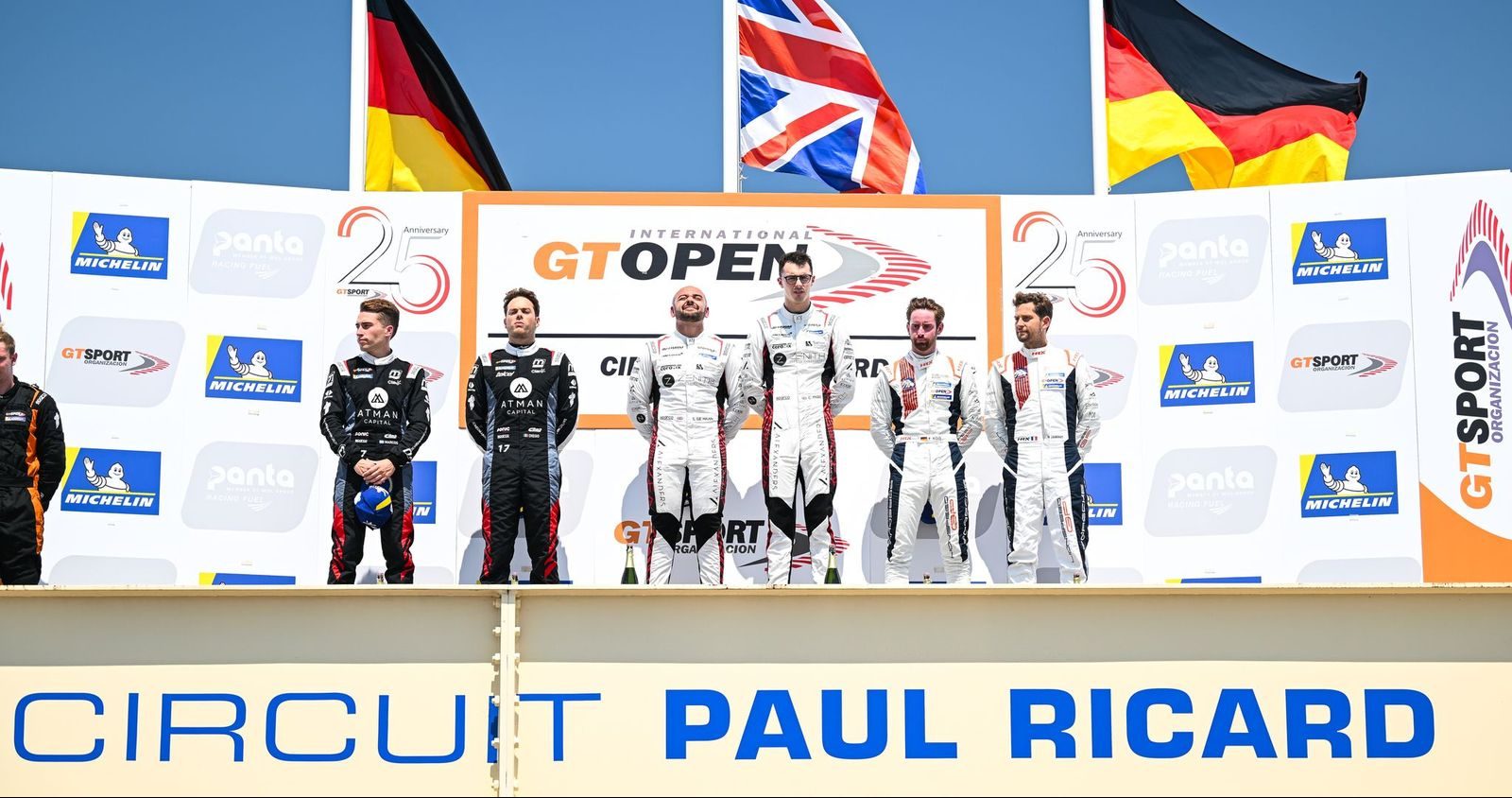 EDGE drivers Charlie Fagg and Sam De Haan in the Optimum Motorsport McLaren 720S took their second win of the season in Race 1 of the International GT Open championship at Paul Ricard last weekend. Race 2 saw a solid P6 after the success penalty of race 1.
Qualifying 1 saw Charlie Fagg take to the wheel and It was a thrilling and closely-fought qualifying session ahead of Race 1 with 9 cars in one second and five different brands in the top 5.
It yielded an unusual result as two cars put the same best lap time of the session, 2.01.922, with pole position being awarded to Max Paul in the Oregon Team Lambo with Charlie in the Optimum McLaren having to settle for P2 as Paul set the time first in the session!
Race 1 started with Charlie at the wheel. The lights went out and Paul held his lead ahead of Fagg, Cheever, Basz, Barr, Schirò and Arrow. A big accident saw the safety car out for a long period.
The race restarted after five laps, with Paul still in the lead ahead of Fagg, while Basz takes third from Cheever in lap 10 with a beautiful move at the chicane.
The pitstop window closed with 20 minutes to go to the flag and Sam was in the hot seat with an 8 second lead on Chovet. Chovet reduced the gap on De Haan and caught him three laps from the end, but an overtaking attempt ended in contact and a spin, with the Frenchman dropping to third and De Haan crossing the line in P1.
Qualifying 2 saw Sam take to the hot seat and he managed a fantastic lap that put him P5 in class on the grid. Race 2 would get underway and Sam dropped down the order at the start. At the halfway mark Sam was in P17 and 6th in class. Charlie jumped in the #69 Mclaren 720s GT3 after serving the success penalty from taking the race victory the previous day and began to make progress through the field. As the flag came out Fagg put in an awesome stint and crossed the line in 6th overall and in class. The victory and the P6 sees the Optimum Motorsport #69 leading the Championship by just 1 point.