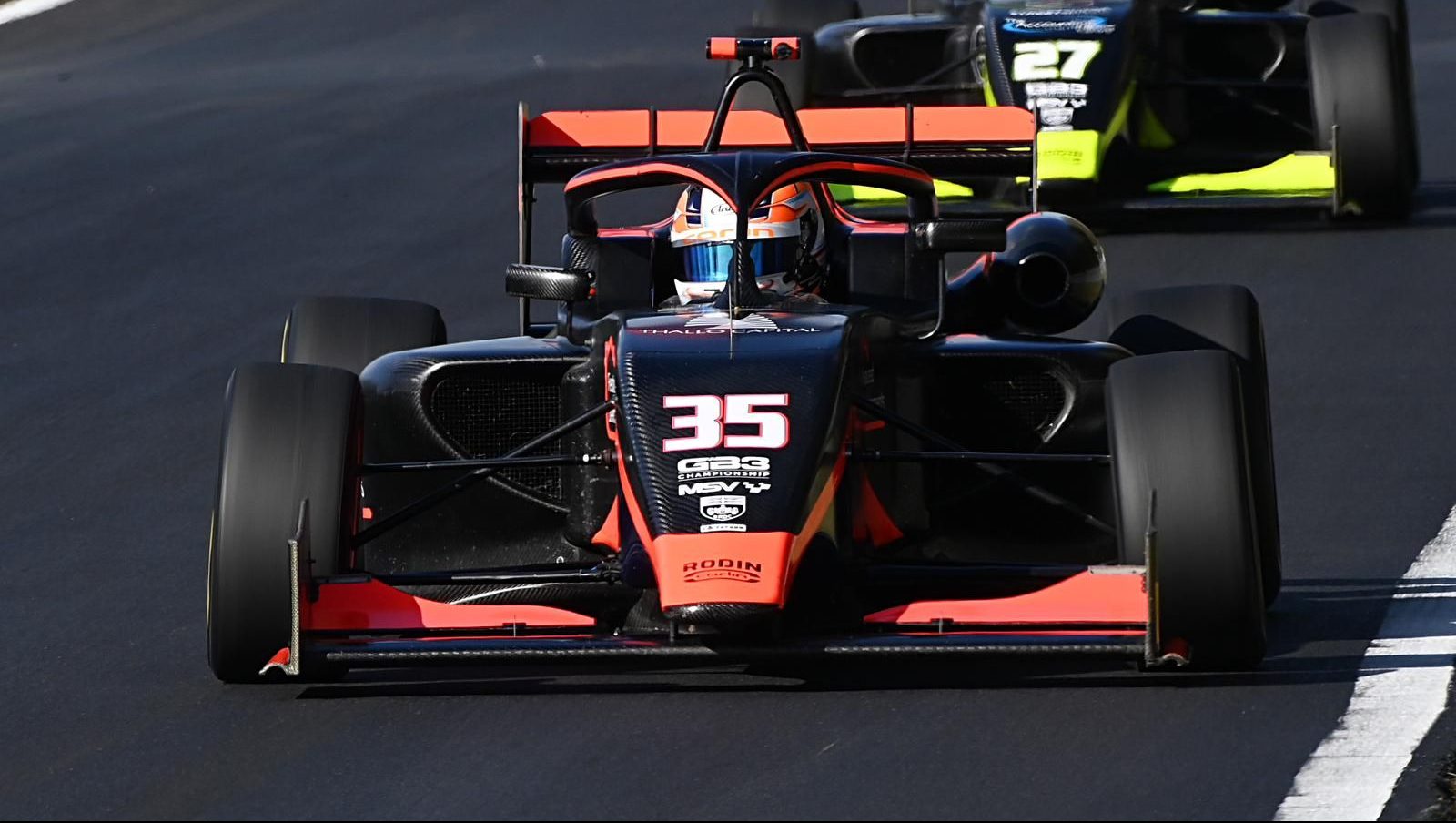 EDGE driver Callum Voisin, back for a second season with Rodin Carlin in the GB-3 Championship came into the opening round of the season with a clear objective to gather points towards taking the 2023 Championship.
Qualifying saw the #35 pilot set a time that would see him line up on the second row in P3, with Voisin's second fastest time (which determines the starting position for Race 2) good enough for the front, in P2.
Race 1 would see a solid start from Voisin as the lights went out, holding onto P3 into turn 1. A couple of safety cars later and the race settled down. With over taking very tricky at the arrow Cheshire circuit, Callum settled into a good rhythm and crossed the line to take his first podium of the year
Voisin commented, "I guess we've picked up where we left off last season. Starting with a podium, we couldn't ask for much more. My start was a bit meh, I got a little too much wheelspin. After that I controlled where I was, it's really hard to overtake round here so you couldn't really do too much but really happy with the result and nice to start 2023 with a strong result.
"I had it under control. My tyres started to fade away towards the end of the race but we had a bit of a mishap it seems at the final corner and we managed to hold on from there."
Race 2 saw a very different story, condition wise – Light rain before the contest necessitated the declaration of a wet race, but the entire field took to the grid with slick Pirelli tyres for the two formation laps. But around the first tour, the rain intensified, catching out more than one driver with at least half the field opting to pit at the end of the first green flag lap for treaded rubber.
While most of the front-runners returned to the grid still on slick tyres, the others had been released from the pit lane, by which time the rain had intensified, and the start delayed, allowing all drivers to change to wet weather tyres on the grid.
When the race finally got underway, all eyes were on Hedley, who surged to second immediately and then set about early race leader Loake, who had also enjoyed a strong start from pole with Voisin dropping to P3 for the opening 4 laps.
It was clear that Hedley was the quicker, and after closing rapidly, found his way past Loake on lap two, and then surged clear. Voisin then got passed Loake on Lap 5 and Voisin's pace towards the end suggested he could have challenged for the lead had there been a few more laps, but Hedley was ultimately in command to take his first victory with Voisin crossing the line in P2.
Callum Voisin, Rodin Carlin
"It was a hectic race for everybody, I wasn't expecting it to rain that hard. On the green flag lap when we were on slicks, I was thinking do we go wets, I didn't think it was worth it. But then once it started bucketing it down, I knew everyone would go onto wets. But yeah a really good race from me, very happy, another podium, that's good.
"I felt I had a little more pace than James but once the yellow flags came out for kind of half the lap, there's no point, can't go faster in yellow flags anyway, I'm really happy with the result."
Race 3 would be the full reverse grid race and saw Voisin line up 23rd. With rain falling at the start, there was a split amongst the grid in terms of tyre strategy, and that contributed to plenty of drama and multiple pit stops throughout. A good start from Voisin saw him hold position into turn 1, but unbeknown to him, Race 2 winner James Hedley, on slicks, made an over exuberant move up the inside and took Voisin out of the race which resulted in a DNF at the first corner.