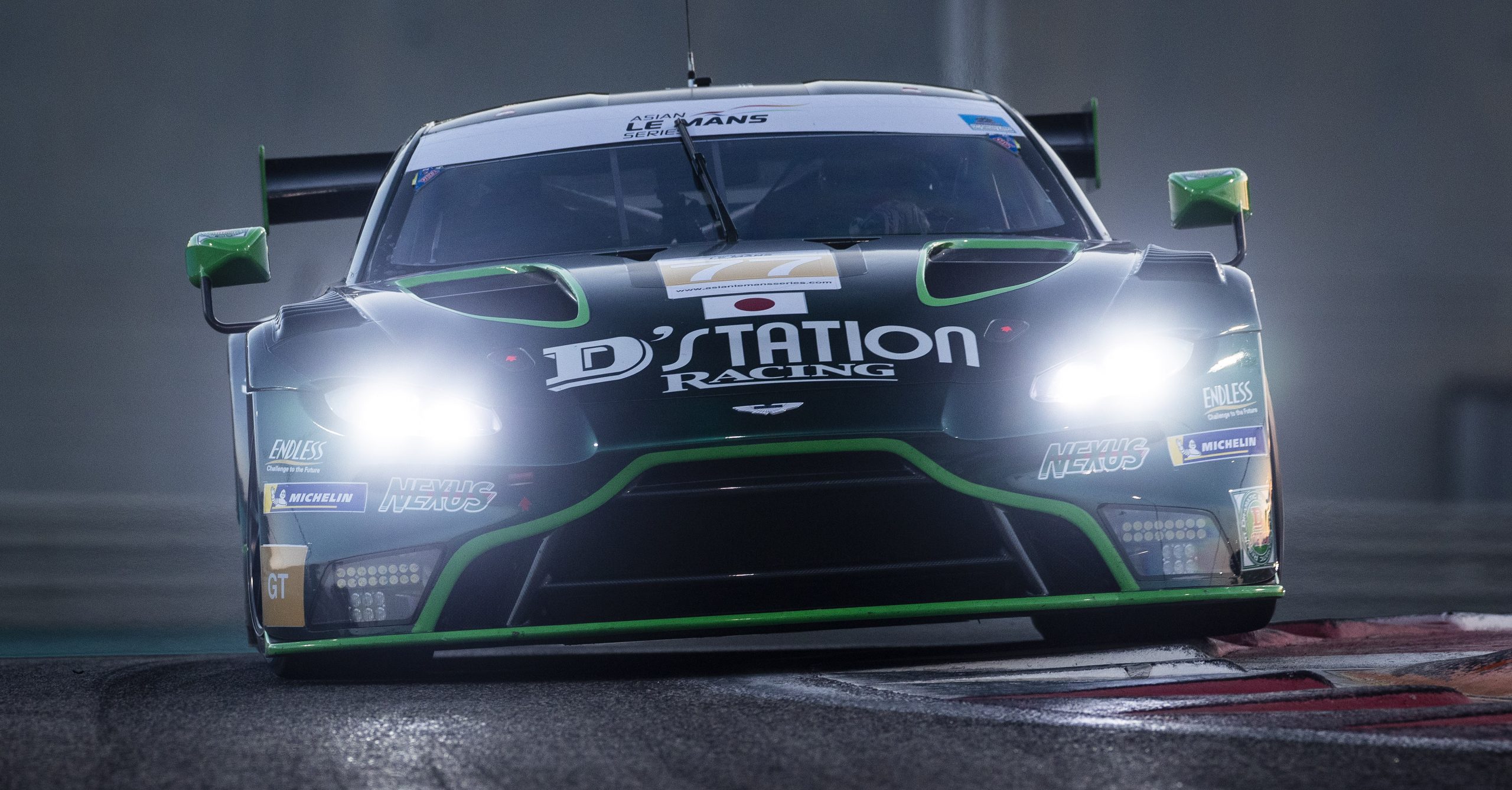 Tom Gamble showed real pace and true merit of a future world class endurance driver throughout the Asian LeMans series which took place in Dubai and Abu Dhabi earlier this month.
Re joining the Japanese based Aston Martin GT3 team, D'Station Racing, Gamble would share his Vantage GT3 with Bronze rated driver Satoshi Hoshino and Gold driver Fuji Tomonobu which would compete across 2 weekends at Dubai Autodrome and Yes Marina. Each venue would host two 4 hour races across the two weekends.
The first of two race weekends would take place at Dubai Autodrome. The ultra competitive grid consisting of no fewer than 16 factory drivers saw the #77 car qualify P17 under the control of Tomonobu. When Gamble jumped in the Vantage he was P17 but ,managed to work his way up the order to P12. The chequered flag came out after 4 tough hours of racing and the D'Station Aston Martin crossed the line in P13.
Race two was a very similar story to the opening round at Dubai Autodrome. Hoshino would start the race and managed to work his way up the order to P16 when Gamble jumped in. A flawless 1 hour stint would see some ultra competitive lap times that were faster than some of the manufacturer backed pro drivers. Tomonobu would bring the #77 home in another solid P13.
Rounds three and four took place at Yas Marina in Abu Dhabi. A slight change in the running order would see Tom Gamble take the helm for qualifying and also for the longer stint in the car during both races.
Hoshino would begin the 4 hour race from P12 for his 1 hour stint. After dropping down the order slightly, Gold rated driver Tomonobu put in a great stint to hand the #77 over to Gamble in P14. Gamble then set the timing screens a light and did a tough double stint for 2 hours pushing the D'Station prepared Vantage up to P7, and in the process lapping faster than other factory drivers.
The final race at Yas Marina would follow the same set up as the day before. This time however the race spent a large section of its duration under a full course yellow situation due to an accident. This would alter all the teams strategy, so quick thinking by the engineers would be required to ensure no time was lost. When Gamble got in for his 2 hour stint the #77 was in P13. Another succession of ultra fast and consistent laps would see the 19 year old project the Vantage GT3 up to P7 where it finished the race.
Gamble commented, "I can't thank all the guys at D'Station enough for the opportunity. Its been a tough few weeks but I have learned a lot and it's been some fantastic seat time for me up against some of the best endurance drivers in the world".