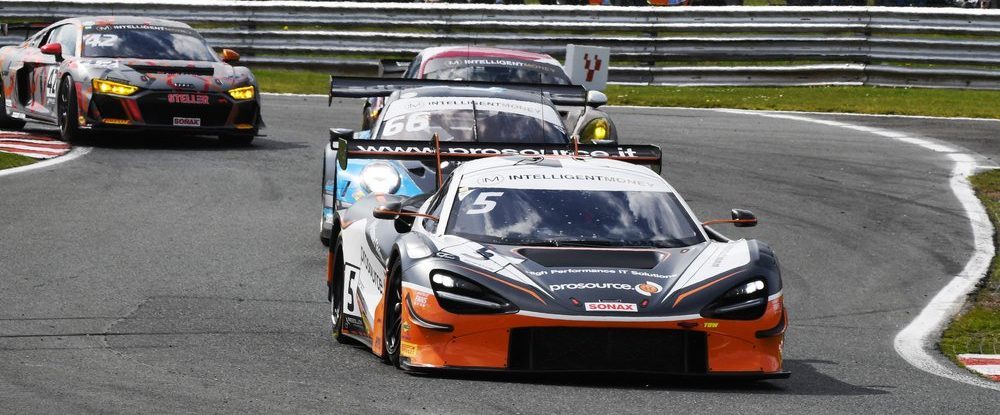 EDGE driver Lewis Proctor scored a magnificent podium finish last weekend in the British GT Championship that was filled with on-track drama.
Lewis and Stewart Proctor finished third in the Silver-Am category in the season-opening race at Oulton Park on Easter Monday in their McLaren 720S GT3 after an impressive climb through the field.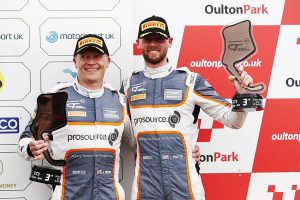 Stewart qualified seventh for Monday's opening race and moved into the top six by the end of his opening stint.
Slick pitwork and a strong stint by son Lewis – which included the third quickest lap of the race (half a second faster than the winner) – launched the McLaren up the order to finish third in class.
Lewis had qualified third in Silver-Am during Saturday's 'Pro' qualifying session and ran there through most of the opening stint of Race Two, but crashed out on slick tyres when a sudden heavy rainshower severely reduced grip levels at Clay Hill.
Despite this, he and Stewart hold fifth in the Silver-Am points with one of seven rounds completed. The next race, the Silverstone 500, takes place on May 8.
Lewis Proctor said: "To finish on the podium in the first race of the season is a very good result. The pace of the Greystone GT McLaren has been very good and I think we've definitely deserved it. I had to do a fair bit of scrapping with the Lamborghini that was ahead of me, and the cars were stacking up behind a bit, but we've definitely found performance in the car as we've gone through the weekend and this is the result. In Race Two I just skated off on slicks as a very sudden, localised, shower just got rid of all the grip. It was a big impact, but I'm okay."
Stewart Proctor said: "I'm very pleased with the result. To finish on the Silver-Am podium is a strong result for us and for Greystone GT. We've had good speed from the McLaren and third was a strong finish. We had a bit of bad luck with the incident in Race Two when the weather just turned suddenly, but Lewis is okay – which is the main thing. We go to Silverstone with a lot of confidence of doing even better with fewer outside factors coming into play. The Silver-Am title defence is definitely something we have in our minds."
Mark McLoughlin, Team Principal, said: "To finish on the podium and run as competitively as we have on our first weekend in British GT is a very proud result for the whole team, but this is just the start and we certainly have high ambitions for the rest of the season. Since the first test with Lewis and Stewart a couple of months ago their commitment to this programme has been clear, so it's been great to see both of them up on the podium today after a very strong performance. Stewart was error-free and did exactly what was needed when he was in the car and Lewis set the third-fastest lap of Race One, which is an indication of how his pace has evolved since he's joined the team. Silverstone – our home circuit – promises to be a pretty exciting event for us."