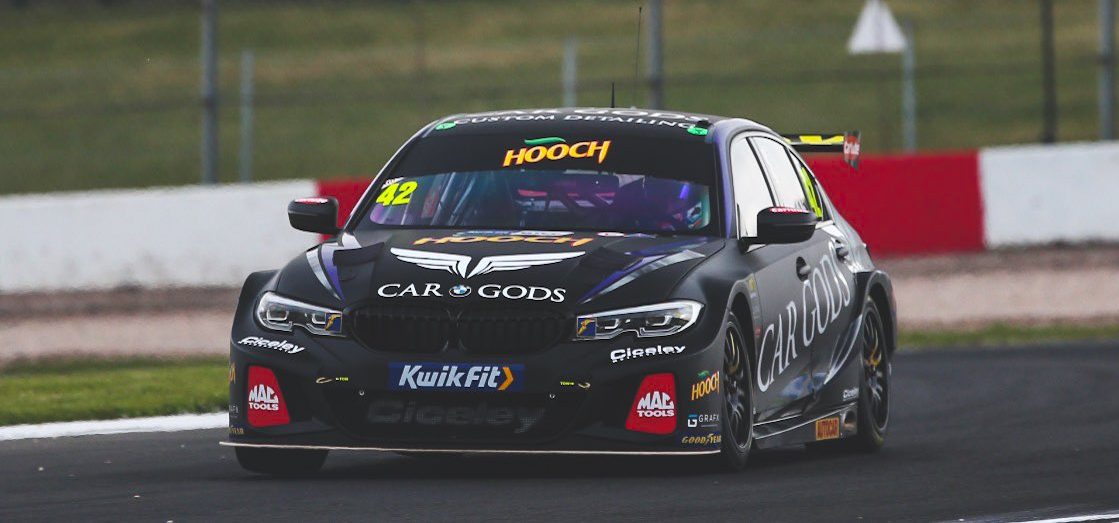 EDGE driver George Gamble along with his team, Car Gods with Ciceley Motorsport is celebrating a superb start to the Kwik Fit British Touring Car Championship at Donington with a podium finish, two Independent category wins and a massive step forward for the Accrington-based team.
The new era of the BTCC requires all cars to run a hybrid unit that regenerates power and allows drivers 15 seconds per lap of hybrid deployment. It has been a learning curve for all the teams in pre-season testing and remained a challenge over the race weekend, but Car Gods with Ciceley Motorsport was on top of the new technology, and  Drivers Adam Morgan and newcomer George Gamble were relishing the opportunity to go racing and fight for wins and podiums in 2022.
The weekend started with two free practice sessions that allowed the teams to work on car set-up for the all-important qualifying session, Adam and George were in a confident mood. After an early stoppage, caused by Dan Cammish's Ford Focus splitting a fuel rail and igniting, the teams had just under 22 minutes to set their grid-deciding lap times. George wowed everyone with a time fifth fastest, just 0.219s off pole position.
An optimistic team went to the grid ready for the first ever BTCC race with hybrid technology and it began with a frantic lead battle and a safety car period. As the leaders tripped over themselves and delayed each other, Adam cleared a frantic battle and caught the leading group to finish fifth while George's BTCC debut resulted in sixth place after a highly impressive drive. The Car Gods with Ciceley Motorsport BMW 330e M Sports also took a one-two finish in the Independents' class which was another boost to the squad.
The cars lined up fifth and sixth for race two, but Adam was in strife even before the race started, as a tooth had worked loose in the transmission in race one which prevented the engagement with the hybrid system and with no spares available, he had to complete the remaining two races without the extra power available to everyone else. Adam battled to a remarkable fourth place, "helped by me having a big gap to the pack behind," but George was a star of the race as he bolted to second place on the run to the first corner and finished in third place overall as well as winning the Independents' category.
"I didn't think it could get better than race one," said George, "but I made a good start and had Adam behind me to protect me from the pack. It feels amazing!"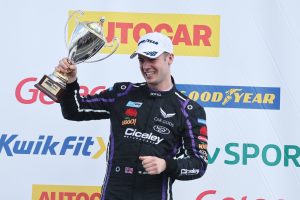 George was penalised in race three with a drive-through penalty for jumping the start and finished 20th, while Adam, again forced to run without hybrid, finished in sixth place after a tremendously consistent day which showed the pace of the cars and the giant step forward the team has made on the engineering side.
Car Gods with Ciceley Motorsport's new Commercial Manager Ash Gallagher was delighted with the results: "We have had an absolutely fantastic weekend. Two Independent wins are a great boost and so is the fact that the cars were so solid on pace in all three races. We are all thrilled for George getting his first podium in only his second BTCC race, while Adam's results without hybrid show how good his racecraft is and how well engineered our BMW 330e M Sports are. Steve Farrell and the team have worked really hard over the winter and the whole team, as well as our commercial partners, are buzzing about the weekend. We can't wait for Brands Hatch!"
The Donington results put Adam fifth and George ninth in the championship standings, with Car Gods with Ciceley Motorsport second in the Teams' Championship. Adam leads the Independents' Trophy with George third with Car Gods with Ciceley Motorsport the leading Independent team. The BTCC's Jack Sears Trophy runs for drivers who haven't scored an overall podium before the start of the season, and although George now has an overall podium to his name, he is second in that competition as well.
The Kwik Fit British Touring Car Championship bursts back on track at Brands Hatch, Kent, on May 14/15. Qualifying will be shown live on Saturday on itv.com with the raceday action starting on ITV4 but including two BTCC races on ITV1.