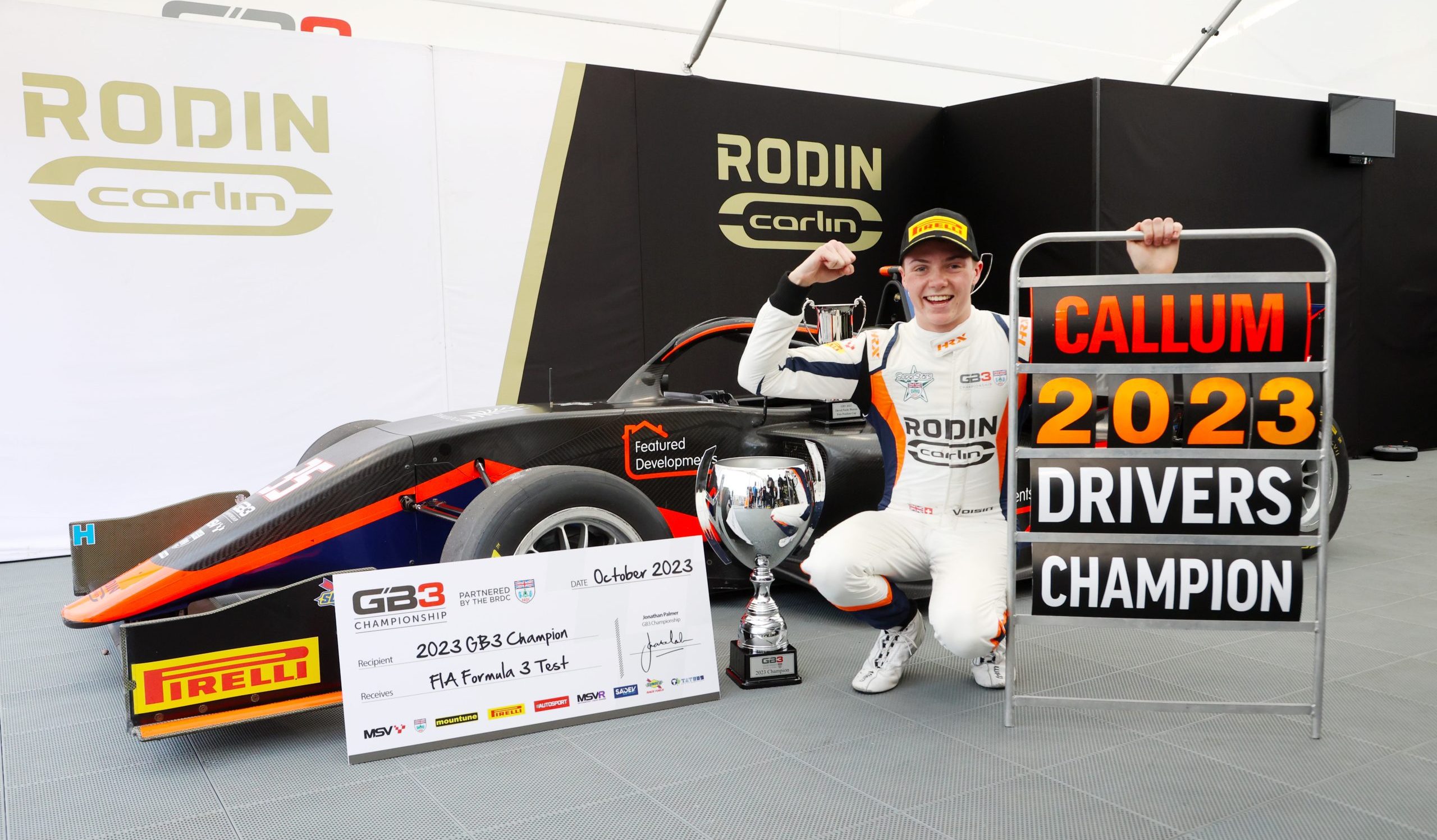 EDGE driver Callum Voisin leaves Donington Park as the 2023 GB3 champion after clinching the title in the final race of the season.
The Rodin Carlin's driver went into the final race knowing that if he finished 12th or higher he would be champion, no matter where rival Alex Dunne (Hitech Pulse-Eight) finished. He was able to easily make up the ground, and although Dunne was ninth, Voisin finished in the 12th position he needed, and crossed the line champion.
"Honestly I can't put it into words," he said immediately afterwards. "It was a really stressful race, obviously loads of safety cars and quite a lot of carnage. I'm so happy to come back and to win the title, especially after what happened this morning. It wasn't my finest performance but we came back fighting and we did exactly what we needed to do. I'm pretty ecstatic right now."
Voisin's second victory of the season in race one yesterday set him up perfectly to clinch the crown as early as in race two on Sunday morning, but he was overtaken and beaten by Dunne, delaying certain victory until the final contest.
"I think yesterday gave me a lot of confidence, we definitely could have got another win this morning. Second place did close up the table quite a lot, a lot more than I would have wanted, for sure. I always had it in the back of my mind, as long as we do a good job in race three we should be fine.
"My goal was to stick behind Alex [in the third race]. He could carve the way through and I could follow him. After the second safety car restart, I got shuffled back a little bit. It was about judging the moments very carefully, making sure you're not making any silly mistakes, so no round-the-outside moves for me, I was very much on the cutbacks that race.
"I'm over the moon, we finally got it done."
It's onwards and upwards for the GB3 champion now who will have to cut celebrations short for now, due to a packed schedule over the next few days.
"I've got a flight tonight to Bologna, I'm doing the FIA F3 days in Imola on Monday and Tuesday. Then it's straight back to Silverstone because I've got the Aston Martin Autosport BRDC Young Driver of the Year Award assessment days on Wednesday and Thursday. No rest for me!"
Voisin will remain with the Rodin Carlin team for his Imola F3 tests, and was full of praise for the team he won the GB3 title with.
"I love Rodin Carlin, they picked me up when I was 15-years-old and it's been one heck of a journey," he said. "They've never given up, they've always believed in me and given me a winning car every time I go out. I can't thank them enough; Trevor Carlin for his belief, my engineer Jimmy, he's amazing and always gives me a brilliant car. Thank you so much to them."