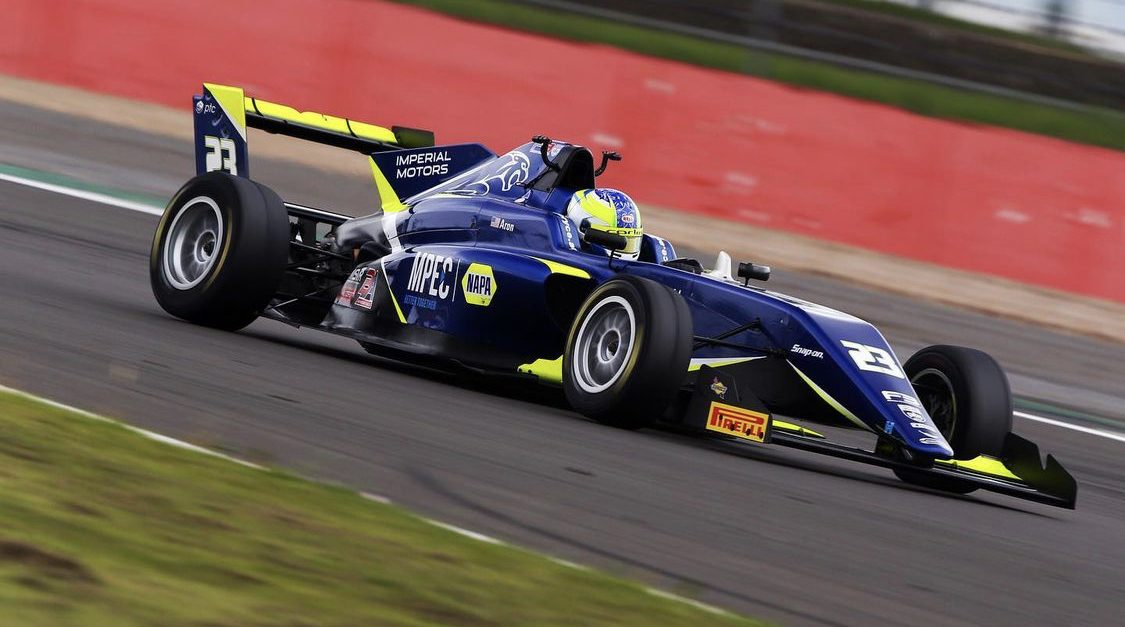 The second round the of the BRDC Formula 3 championship took place at Silverstone last weekend and Bryce Aron was looking to keep the momentum going from the strong finish at Brands Hatch the month before.
Qualifying took place under gloomy skies at the iconic Silverstone GP circuit. Aron would not get the best out of his session and would end up putting times down which would see him P12 and P11.
The lights went out for Race 1 and Aron made a great start to gain 2 places on the opening lap. Pushing hard the young American would begin to close the gap on the pack in front and soon Aron had his eyes set on the car ahead. Lap 4 would see Aron slot into P9 and he began to set lap times similar to the lead pack. The chequered flag came out and Aron crossed the line in P9.
Race 2 saw the #23 carlin ran car start in P11. A good start saw Aron settle into his usual rhythm and holding position. On lap 3 however, a rather over exuberant move from his fellow competitor, Dexter Patterson would see contact between the two cars, pushing Aron off the track and thus Patterson losing his own front wing. This the put Aron on the back foot for the remainder of the race after receiving damage from the incident. Aron crossed the line a disappointing P11. Patterson was then disqualified from the entire meeting for threatening behaviour in parc ferme.
Race 3 saw the reverse grid race, and Aron would line up in P5. As the lights went out Aron made a good start and slotted into P3 after the opening lap! Unfortunately a mistake from Aron would see him make contact with fellow competitor Max Marzorati which resulted in both cars retiring, and Aron being removed from the results.