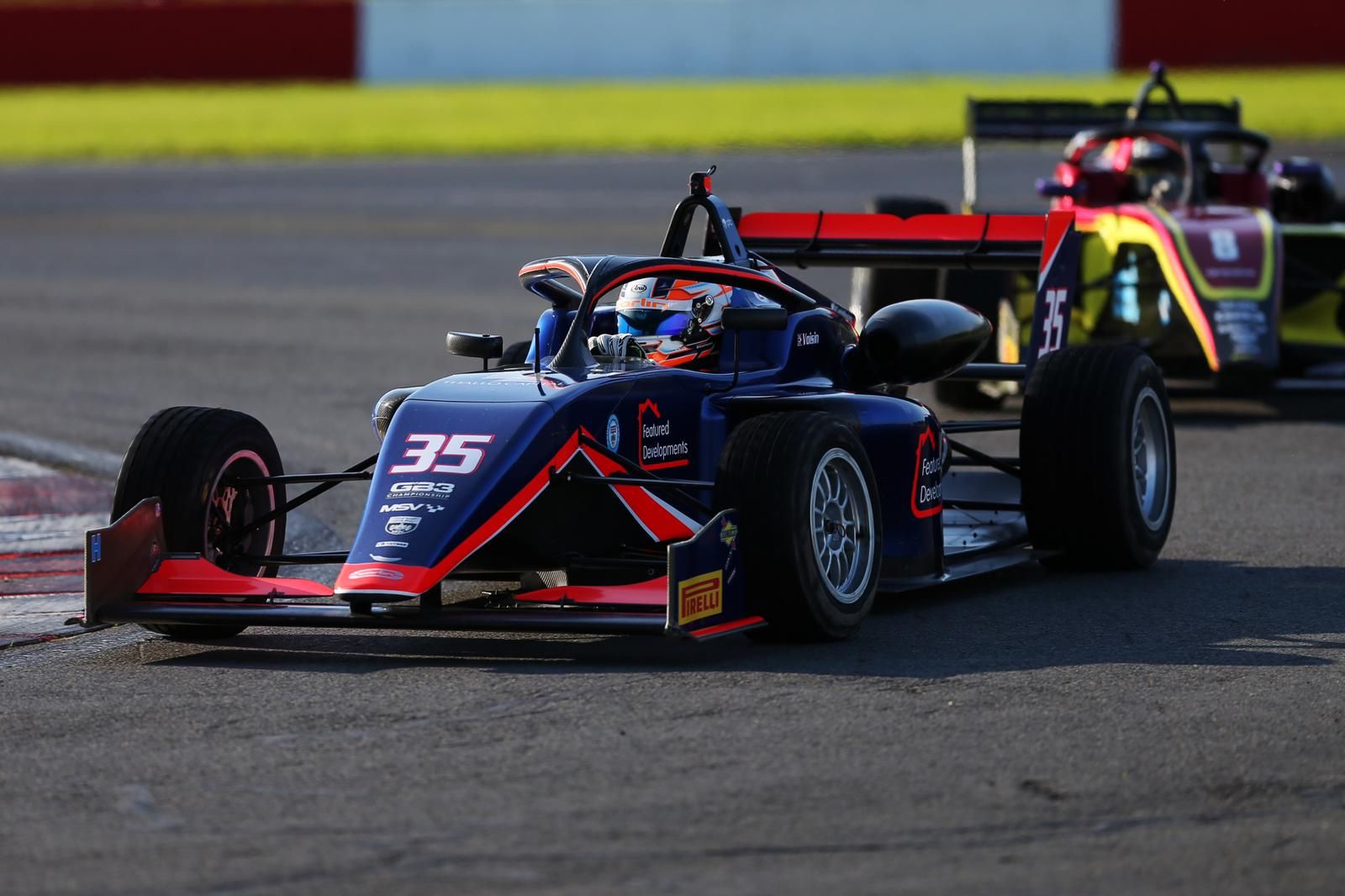 EDGE driver Callum Voisin claimed a double pole position in the final qualifying session of the year at Donington Park, with a last gasp lap. He then followed this up with a lights to flag victory in Race 1.
In a session that saw multiple drivers take turns at the top of the times, including the title protagonists, Voisin whittled his best effort down to a 1m23.629s after the chequered flag was waved, with conditions at their best.
Voisin's pole lap was 0.050s faster than Elite's Tom Lebbon, who was also a late improver, with Hitech GP's Bryce Aron taking his best grid spot of the year in third, and less than a quarter of a second away from pole.
Voisin's double pole provisionally earns him the Jack Cavill Pole Position Cup, and the end of year £2,000 prize
In Race 1 Voisin led from lights to flag and claimed his third GB3 win of the year in the first race of the Donington Decider weekend. Voisin held off a persistent challenge from Elite's Tom Lebbon, who took second place on the road, but was handed a time penalty post race and dropped to fourth. Voisin made the best start from pole position, and built a lead of several car lengths through the first corner, while a fast starting Browning looked to challenge for third straight away as he squeezed between Aron and Bennett on the run to Redgate. He succeeded in passing Aron but had to wait to launch his challenge on Bennett as the safety car was deployed for an early spill at the Melbourne Hairpin for David Morales. The race restarted on lap six, and Voisin looked to build an advantage, but every time he did, Lebbon managed to reel him back in again, finishing half a second behind at the flag, until he was handed the five second penalty for exceeding track limits.
Race 2 would see Voisin slip down the order due to slicks on a drying track and a wrong call on tyre pressures. A frustrating race would see Voisin cross the line in P9.
Race 3 was a race to forget…Starting at the back of the grid due to the reverse grid, Callum would get a good start and begin his attack on the lead pack making up 6 places on the first lap.. By lap 5 Voisin was in P11 and looking strong but then contact at the chicane would see Voisin have to retire from the race. A frustrating end to such a strong weekend.