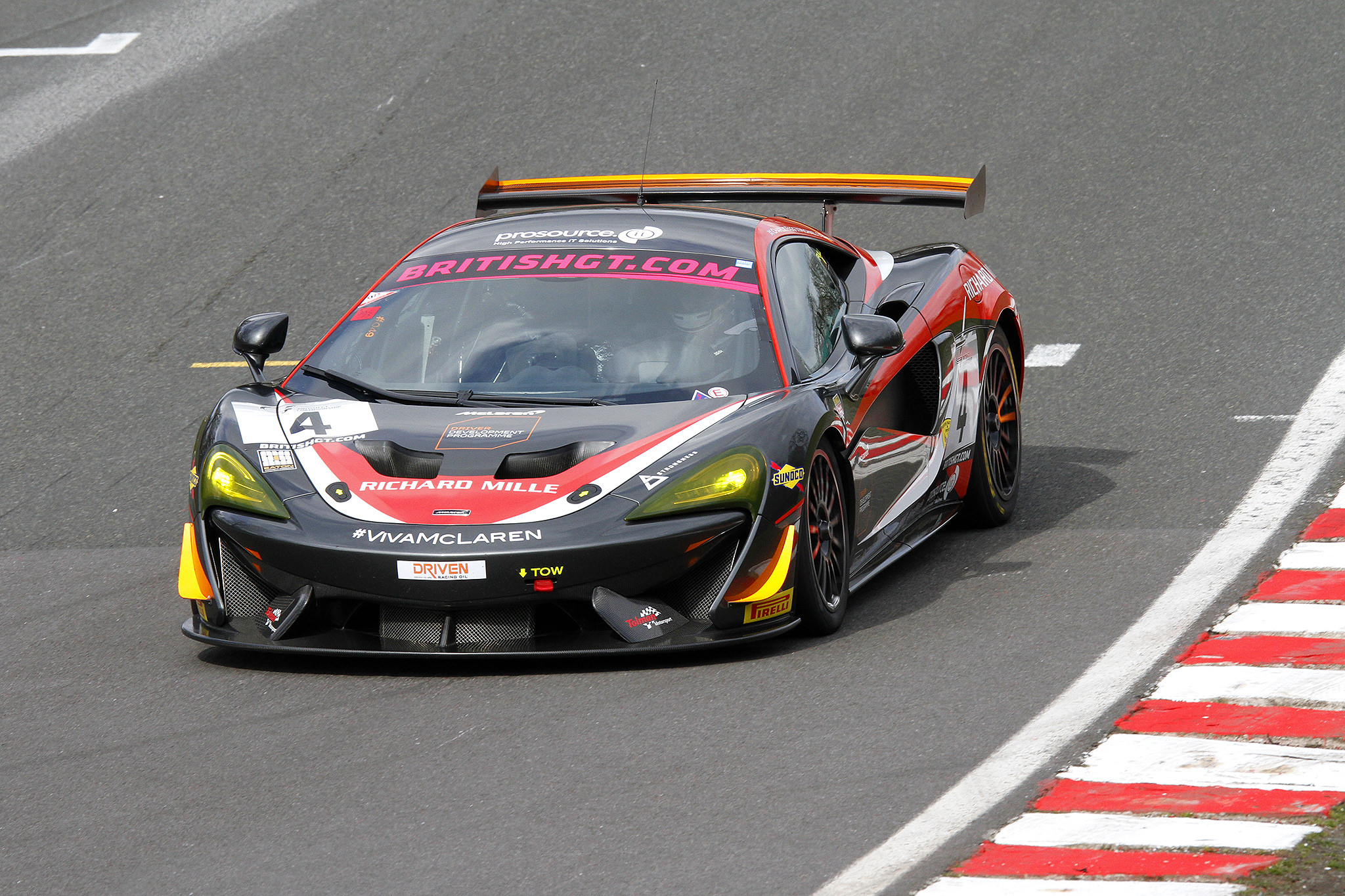 Tolman's weekend kicked off with a strong showing in the first free practice session with the #4 and #5 McLaren 570S GT4s of Charlie Fagg, Michael O'Brien, Jordan Albert and Lewis Proctor finishing the run first and third in class respectively.
Qualifying for the sister McLarens was challenging due to the unfavorable Balance of Performance for this particular round. Nevertheless, after pushing hard to keep up with the untouchable BMWs, Fagg and O'Brien's aggregate time placed #4 in fourth overall, with Albert and Proctor sat eighth in the Silver class aboard their #5 machine.
The three starting drivers, Fagg, Pattison and Proctor, all had storming starts and made up positions on the opening lap.
Sitting in third, young gun Fagg was caught in a BMW/Aston Martin sandwich and did a stellar job to fend off the Academy Motorsport duo behind whilst making progress to the pair of Century Beemers ahead. Some battles early in the race had left various bits of debris strewn across the 3.9-kilometer-long circuit and unluckily, Charlie had picked up a piece on his rear right wheel on his final lap, causing a sudden puncture through one of the fastest corners of the track. Fagg lost some time but did well to control the 570S and nurse it back to the pits for the driver change. A superb stop from the Tolman crew meant not a second was lost whilst repairing the damage caused by the puncture.
On top of #4's 15 second success penalty from Spa, the recently extended pit stop time for the Silver/Silver pairings meant that O'Brien was jumped by multiple Pro-Am racers and headed back on track in 12th. With the Championship in mind, Michael made his way up the order to 9th to secure valuable points.
Quotes:
Charlie Fagg #4 – "We had a good start to the weekend with FP1 and FP2. Being well within the mix meant we thought we would have really good race pace and that was very positive for us. Qualifying was a scruffy session and it was difficult to get a proper lap in, but I did an okay job and that was good enough for fourth. Mikey backed that up which meant we started fourth overall. I had a good start, got into third. The BMWs were very fast, but I just kept trying to hunt them down, using the traffic to my advantage. Unfortunately, right at the end of my stint, I picked up some debris on my rear right tyre and suffered a big puncture. It was a real shame because we were looking quite good for at least a top five result. But we brought it home in P9, one of the 'what could have been' races. We maybe didn't have the most favourable BoP. We need a break, maybe a bit of rain? That would really help us!"