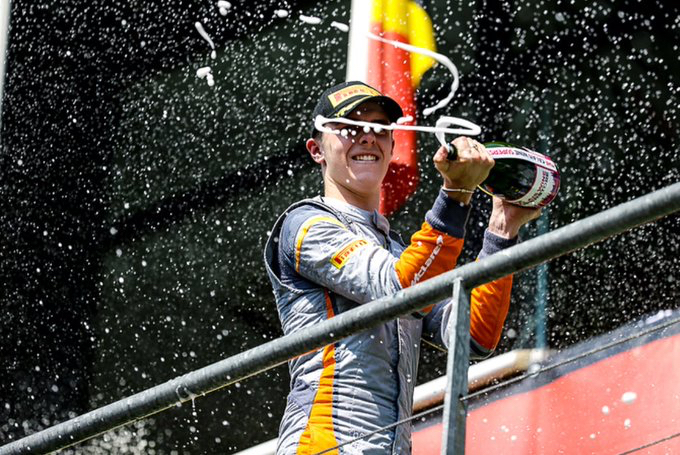 Tolman Motorsport stepped onto the podium once again with the #4 McLaren 570S GT4 of Charlie Fagg and Michael O'Brien last weekend at Spa Francorchamps in Belgium. Following O'Brien's superb pack-leading stint, a win was almost on the cards. However, after being jumped in the pit stops as their rivals lucked-in with the safety car, Fagg brought the Tolman-run McLaren over the line in second position and achieved the fastest GT4 lap of the race.
The #4 McLaren of Fagg and O'Brien scored their second pole position of the season, with Albert and Proctor in the sister 570S sitting directly behind them on the grid in third place in Tolman's #5.
Michael O'Brien's opening stint saw him defending hard from the #10 Equipe Verschuur McLaren and the #43 Century Motorsport BMW and the youngster did a stellar job to hold his station until handing over to Fagg at the halfway point.
With two retirements for the team, all hopes were pinned on #4 emerging victorious from the two-hour Belgian battle. Fagg left the pits leading the GT4 pack, and shortly after a safety car was called. As the pit stop window was still open, this meant the #43 Century BMW, who was running in second position, could make their stop and emerge almost an entire lap in front of the GT4 grid. Fortunately, Charlie was eventually waved past the safety car and was instantly on a mission to hunt Mitchell's BMW down.
An incredible stint by the 'McLaren Automotive Driver Development Programme' young gun, saw him hot on Jack's heels with five laps to go. Despite his best efforts, Fagg was unable to pass and brought the #4 home in second position. Charlie's mega stint was recognised as he was awarded the Sunoco Fastest Lap trophy.
The team are still in the running for both the team's and driver's championships and are looking forward to Brands Hatch next week where they will compete in the penultimate round of the 2018 British GT Championship.
Quotes:
Charlie Fagg #4 – "What a weekend! After the bad luck at Silverstone, we really needed to bounce back at Spa. I went into qualifying with a good mindset and I knew that if I put a clean lap together, with the strength of the McLaren's around Spa, we could be on pole. Mikey went out in the first session and stuck it straight on pole and because its an aggregated time, I needed to make sure I could follow that up, which I did. Getting pole position was great start to the weekend. Mikey lead his stint from start to finish, absolutely perfect! When he came into the pits, he told me that the car felt on fire, and that we could win the race if I kept pushing. Unfortunately, we were jumped in the pits due to the BMW pitting under safety car conditions and gaining a lap on the entire GT4 field. Fortunately, the safety car waved us by, so we were on the same lap, so I pushed hard to catch Jack Mitchell. Unfortunately, he was quick where he needed to be and didn't make any mistakes. All in all, getting pole position, fastest lap, quickest in FP1, it was a nice weekend and sets good momentum for Brands Hatch where hopefully we can continue our success. We are back in the championship fight and I know we can do this!"